Public Health and Police Violence
Nahid Widaatalla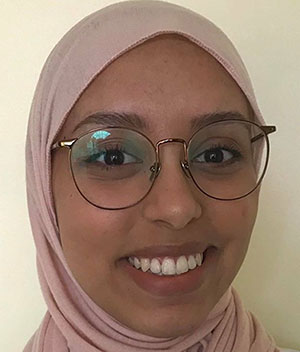 The murder of George Floyd by police in Minneapolis has fueled widespread protests supporting the Black Lives Matter movement. While police violence is often viewed as a political or social issue, its impact on public health is clear.
Despite general violence being classified as a public health issue for decades, very few studies examine the impacts of police violence on wellbeing (Lockhart, 2019). However, police violence is a social determinant of health. Black and Indigenous Canadians are particularly at risk, as represented by the recent deaths of Regis Korchinski-Paquet and Chantel Moore, and footage of Chief Allan Adam being brutalized by RCMP. Black people in Toronto made up 37% of the city's police killing victims between 2000 and 2017 (Marcoux & Nicholson, 2018). Indigenous Peoples in Canada made up one-third of deaths in police custody over the past decade (Freeze, 2019).
Police violence harms communities on several levels, including health. A study by Bor, Venkataramani, Williams, and Tsai (2018) showed that police killing of an unarmed Black man was associated with an increase in depressive symptoms among other Black people in the same US state. Police killing of an unarmed white man was not associated with this same increase in depressive symptoms among white people. Fears of police are systemic, collective, and genuinely threatening to the health of Black people, as they contribute to feelings of stress and hypervigilance within Black communities (Lockhart, 2019). This stress is chronic and cumulative, particularly when Black individuals experience health and social disparities on several fronts. Take COVID-19 for example – a recent report by Public Health Ontario showed that ethno-culturally diverse neighbourhoods are experiencing hospitalization rates that are four times higher and death rates that are twice as high as the least diverse neighbourhoods (Public Health Ontario, 2020). This is due to the high amount of pre-existing health complications among these groups, as well as conditions like low income, crowded neighbourhoods, and front-line work that disproportionately affect racialized individuals. For people of colour, poor social/health conditions and fear of law enforcement intersect to create a cycle of stress, weakened physiological systems, and unhealthy stress coping mechanisms such as smoking and overeating (Raphael, 2016).
What can public health professionals do to address police violence amidst COVID-19 and beyond? Actions include recognizing current events and educating the public on how to safely protest during the pandemic. Presently, collaboration between police and public health is limited. However, upstream public health efforts can help address the very factors that contribute to crime and decreased public safety. For example, a US health department in Baltimore developed a program called Safe Streets, which hired individuals, many of whom were ex-offenders, to mediate community conflicts before they escalated into violence (Wen & Cooper Lloyd, 2016). The program reduced homicides by 56% in one neighbourhood and 26% in another. Centralized surveillance systems formed collaboratively between law enforcement and public health are needed to document racial disparities in stops, arrests, and killings, thereby increasing the transparency of the police (Cooper & Fullilove, 2020). Public health authorities can support the abolition of biased practices like racial profiling and research the public health implications of police violence (National Association of County & City Health Officials, 2018). Increased funding and accessibility of services, particularly mental health services, that give people alternatives to calling the police is necessary, as it prevents the police from dealing with situations they are not equipped to handle (Lockhart, 2019). This can be accompanied by the gradual de-funding and reduced dominance of police services and an increased, active role of public health in collaboration with communities, to create justice systems that are effective and accountable (Bassett, 2020). The need for long-term, collaborative change within public health is ambitious but necessary.
References
Bassett, M. T. (2020). Public health addresses police violence: A beginning. American Journal of Public Health, 110(S1). doi: 10.2105/ajph.2019.305435

Bor, J., Venkataramani, A. S., Williams, D. R., & Tsai, A. C. (2018). Police killings and their spillover effects on the mental health of black Americans: a population-based, quasi-experimental study. The Lancet, 392(10144), 302–310. doi: 10.1016/s0140-6736(18)31130-9

Cooper, H. L. F., & Fullilove, M. T. (2020). From enforcers to guardians: a public health primer on ending police violence. Baltimore: Johns Hopkins University Press.

Freeze, C. (2019, November 18). More than one-third of people shot to death over a decade by RCMP officers were Indigenous. https://www.theglobeandmail.com/canada/article-more-than-one-third-of-people-shot-to-death-over-a-decade-by-rcmp/

Lockhart, P. R. (2019, August 14). Why police violence needs to be treated as a public health issue. https://www.vox.com/identities/2019/8/14/20803872/police-violence-mortality-public-health-black-men-rutgers

Marcoux, J., & Nicholson, K. (2018). Deadly force: Fatal encounters with police in Canada: 2000-2017. https://newsinteractives.cbc.ca/longform-custom/deadly-force

National Association of County & City Health Officials. (2018). Statement of Policy: Police Violence and Racism. https://www.naccho.org/uploads/downloadable-resources/15-04-Police-Violence.pdf

Public Health Ontario. (2020). Covid-19 in Ontario - A Focus on Diversity: January 15, 2020 to May 14, 2020. Queen's Printer for Ontario. https://www.publichealthontario.ca/-/media/documents/ncov/epi/2020/06/covid-19-epi-diversity.pdf?la=en

Raphael, D. (2016). Social determinants of health: Canadian perspectives. Toronto: Canadian Scholars Press Inc.

Wen, L. S., & Cooper Lloyd, M. (2016, November 1). Baltimore Is Attacking the Roots of Violence with Public Health Measures-and Saving Lives. https://www.scientificamerican.com/article/baltimore-is-attacking-the-roots-of-violence-with-public-health-measures-mdash-and-saving-lives/
---