Meet Your New CPHA Student Director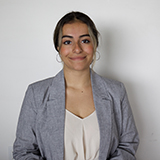 Hello! My name is Camisha Rahmatian, and I am a Bachelor of Applied Science student majoring in Public Health at Ryerson University. I am beyond excited and grateful for the opportunity to serve as the Student Director of CPHA for the next two years, working alongside my fellow board members with their various experiences and expertise. 
I started my journey at CPHA by getting involved in committees under the supervision of Monica Emode, the previous student director, and I owe much of my skill building and interest development in public health leadership to her. Thank you Monica for believing in me and being such an amazing mentor over the past few years. I am extremely grateful to continue working with you on the Board of Directors. 
There are many ways for students to get involved in CPHA, and I know this from personal experience. Do not hesitate to get in touch to learn more about those opportunities. I am looking forward to meeting and working with you all! Below are ways to get involved:
Student and Early Career Committee 
The student and early career committee serves to advise the Student Director and bring up issues related to students and early career professionals. This committee meets every few months over videoconference.
Become a Student Ambassador 
The CPHA Student Ambassadors represent their post secondary institutions through CPHA. They give workshops and presentations to students in their schools once per year to inform and engage fellow students on CPHA resources and opportunities. 
Contribute to the Student Blog 
CPHA student members may submit blogs on any subject related to public health such as research, student life, and conference summaries. Ideally, your article should be 500-600 words. More information about submission requirements can be found here.
I look forward to meeting you all and for the amazing work we will create together. 
Best wishes, 

Camisha Rahmatian
Student Director
 
---