Meet Your New CPHA Student Director
Monica Emode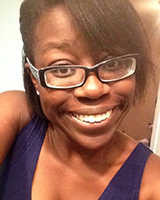 My name is Monica Emode, I am currently a Master of Science candidate in the School of Population and Public Health at the University of British Columbia. I am humbled and excited to have been granted this opportunity to serve as your Student Director alongside our dedicated and hardworking Board of Directors. Over the next two years, I hope to champion the voice of our student and early career professional members and discuss your ideas and concerns.
I am deeply indebted to our outgoing Student Director, Manasi Parikh who has represented CPHA's student and early career professional members since 2016. Thank you Manasi, for your fantastic leadership and fearless dedication to engaging the student membership. I am inspired by your commitment and outstanding contributions to CPHA during your tenure.
There are a number of opportunities to share your voice and get more involved at CPHA as a student or early career professional member. Please send me an email to learn about current ways to get involved. I am looking forward to working closely with you and building on the important work that we've done!
Join the Student and Early Career Committee
Any CPHA member can join the Student and Early Career Committee. This group is composed of public health students and young professionals from all across Canada. The function of this committee is to advise the student director and bring issues up to the board. This committee meets every few months via toll-free teleconference.
Become a Student Ambassador
Any CPHA member can become a CPHA student ambassador. These individuals represent CPHA at their school and (if necessary) at other educational institutions in the area. They organize and give recruitment presentations (the presentation and speaking notes are provided by CPHA) to incoming students once a year and help direct their peers to CPHA resources.
Become a Contributing Author to the CPHA Blog
Any CPHA member can become a contributing author to the CPHA blog. You can write about any subject related to public health: research you're working on, observations about student life, a summary of a conference you attended, etc. Articles are generally <600 words and are accepted on a rolling basis. Publication submission instructions are posted online. You can pitch ideas to our student editorial group by email.
Sincerely,
Monica Emode
Student Director, Canadian Public Health Association
---