An Uphill Trek
Laura J. Kennedy
Before beginning my career in public health, I worked in acute medicine as a Registered Nurse. I enjoyed being on the front lines. I monitored fevers, mixed antibiotics and reoriented confused patients. I can still hear the beeps of IV pumps and call bells ringing in my sleep. A noise with the same pitch can make me jump up, look around and imagine the worst. I enjoyed this work because I helped people at their worst. I've been at the patient's side when they are taking their last breath. I've helped a patient take their first steps after recovering from a stroke. I've comforted family members when their loved one's condition changed hour by hour. 

But all throughout this meaningful and rewarding work, something didn't make sense to me. I kept seeing the same patients admitted, week after week. One night, I was sitting at the nurse's station waiting for an admission from the emergency department. The patient I was receiving had just been discharged the week before, and the week before that.
I started thinking: "Are we actually helping this person? How did they end up like this in the first place?" What if we stopped illness before it began?" These questions were primers that led me up the path of pursuing public health.
Yes, up the path. A career in public health is a long and steep uphill journey. There are few places to rest and sometimes you don't feel like you are moving forward.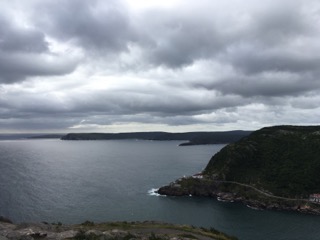 I ventured off to Newfoundland to pursue a Master of Public Health. I was awestruck by the impressive rocky landscape, especially from the Signal Hill lookout. From this viewpoint, I could see the Atlantic Ocean, Cape Spear and the brightly coloured rows of houses in the city of St. John's. It was a view that wowed me. 

Public health has given me a similar 'zoomed out' view. I went from working with individual patients to studying health from a population perspective. I went from administering medications for heart failure to studying chronic illness prevention. Instead of seeing hospital overcrowding as a building and space issue, I began to understand it as a societal wellness issue. 

As I studied public health, I was able to see the bigger picture. I saw the impact of poverty on health and the unhealthy physical and social structures of our communities. I saw the policy avenues for change and population interventions. Similar to my reaction on top of Signal Hill, I was astounded and my understanding of health and wellness changed. 


My family and coworkers questioned my pursuit to study public health. Why study something that is so underrepresented, underfunded and that doesn't see immediate effects?
You start a career in public health because it's worth it, not because it's easy.
When you watch the news, or read the paper, the top stories are about wait times, new treatments and hospital bed shortages. Health prevention and promotion seem to get pushed aside by something deemed more critical or immediate. It's true that we need people working on health issues at a downstream level, dealing with the instantaneous emergency situations. But shouldn't we do a better job at investing our efforts towards upstream interventions? This means we would strive to prevent illness before it begins. Rather than educating an individual about healthy eating after their cardiac bypass, we can put policies in place that limit salt in store-bought foods. Rather than increasing the budget for orthopedic hip and knee surgeries, we advocate for more trails and parks to keep people active and prevent obesity.
I leave the following advice for those about to embark on a career in public health. 

Get out of the classroom. After starting classes and discovering the best study-worthy coffee shops, I found a place in the community to volunteer. I found a local soup kitchen and stood close to the coffee bar, where I had time to engage with members of the community. I saw the determinants of health, such as low income, lack of social supports, low education and disconnection from culture, all at work and contributing negatively to health. Classes are great because they give you the knowledge you need to understand core public health principles, but experience connects this theory to practice.

Zoom in. Public health is a broad area of study. Once you find an area you are interested in, start pursuing it. Whether it's a specific type of disease prevention, area of policy or a specific population group, learn all that you can. Find out what politicians, NGOs, newspapers, journals and other people are saying about it. Choose a practicum that aligns with these interests, regardless of whether it is paid or not.

Integrate with prior learning. Use whatever prior education you have as a foundation of knowledge to build on. Public health is connected to everything – the environment, economy, law, medicine, business, research and architecture. Whatever your educational background is, there is likely a public health connection.
Enjoy the view.
---