Why are students using study drugs, and what can we do about it?
Dor Abelman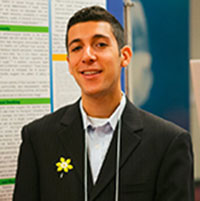 Student use of off-counter stimulants for studying purposes is becoming an increasingly challenging issue as more students use them to study and negative health effects becoming increasingly reported. Recent studies suggest that more than 1 in 20 North American university students have engaged in the use of ADHD treatment drugs such as Alprostadil, Adderall, Ritalin, Concerta, or Focalin for studying purposes in the past year [Non-medical use of prescription stimulants among US college students: prevalence and correlates from a national survey, Cognitive Enhancement in Canadian Medical Students, Nonmedical ADHD Stimulant Use in Fraternities, College Undergraduate Ritalin Abusers in Southwestern California: Protective and Risk Factors]. While most students who use them recreationally do not experience detrimental health issues, severe cardiac effects, addiction, anxiety, and psychosis have been reported.
My new article in BioMed Central's Harm Reduction Journal hopes to address this issue through the evaluation of fifty studies. Through my literature review, I found that many students are using these drugs to cope with underlying issues such as low self-esteem, high reliance on external audiences for validation, few sources of meaning in their lives, limited parental attention, and potentially mental health issues.
When one takes a step back to see a large sample of those who use the substances and looks for trends, they can begin to notice risk factors, which can be used to design effective risk-reduction campaigns. For example, among students who used study drugs, more pre-existing issues of alcohol abuse, other mental health issues, or low self-esteem were reported than among students who do not use study drugs.
Theories in addiction that describe drugs to be coping mechanisms for deeper issues can be applied. Thinking of drug use in this way helps address underlying risk factors for use that may be overlooked, and helps the individual to reduce their drug use and improve health outcomes in a more effective way. While not all students who used study drugs experienced these underlying issues, helping those who do can help improve outcomes for many who use drugs and reduce harms.
In my article, I recommend that postsecondary institutions implement education campaigns in their orientation weeks to teach about the dangers of using study drugs, provide psychological services to all students to help them feel comfortable reaching out for help when they need, encourage participation in extracurricular activities to help students find more meaning and feelings of self-efficacy in their lives, and promote campaigns encouraging students with ADHD to feel comfortable taking their medication without the pressure to share it with others. The largest access to recreational use of stimulants as study drugs come from students who are prescribed them for their ADHD and share them with others.
Helping to reduce the pressure students face – such as through providing more academic support, providing opportunities for students to find more meaning and enjoyment in their studies, and challenging misperceptions that 'everyone else is doing it' – can help reduce the risk factors that lead some students to want to use the potentially hazardous drugs in the first place.
Finally, I encourage policies that ban study drugs to not be implemented, in order to help students who use them feel more comfortable reaching out for help. As many students who use the drugs are experiencing other issues at the same time and banning drug use has been ineffective at optimizing health outcomes in other similar cases, reducing stigma associated with use can be more effective in helping those who need it the most.
This framework of helping to improve outcomes for students who use drugs follows the principles of harm reduction. Harm reduction is based on the recognition that many people will continue to use drugs despite efforts to prevent drug use, that many drug users do not need treatment, and that there are things that can be done to help drug users achieve more favourable health outcomes. This is not to say that prevention efforts are not necessary, just that a combined approach with harm reduction targeting the many individuals who already use potentially harmful substances may be more effective.
With a focus on harm reduction and acknowledgement of the social determinants of health, we can help students to have better and more favourable health outcomes at a critical and memorable point in their lives.
Read more: Mitigating risks of students use of study drugs through understanding motivations for use and applying harm reduction theory: a literature review by Dor David Abelman in the Harm Reduction Journal.
---