Decriminalization of Personal Use of Psychoactive Substances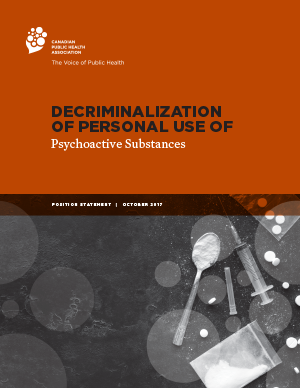 The use of illegal psychoactive substances in Canada persists despite ongoing efforts to limit their consumption. Criminalization of those who use these substances remains the principal tool to control their use and is unsuccessful.
An alternative approach – a public health approach – is required. Such an approach is being used to  manage the ongoing opioid crisis through amendments to the Controlled Drugs and Substances Act and other related acts, including renewal of the Canadian Drugs and Substances Strategy. The amendments provided a simplified approach for obtaining permission to establish supervised consumption facilities while the Strategy renewal reintroduced harm reduction as a pillar. Similarly, the Good Samaritan Drug Overdose Act provides an exemption from charges for simple possession of a controlled substance, as well as charges concerning pre-trial release, probation orders, conditional sentences and parole violations related to simple possession for people who call emergency services or are on scene when help arrives for those suffering from overdose. The Canadian Public Health Association  encourages provinces, territories and municipalities to implement similar measures in their jurisdictions. Furthermore, the Association recognizes and supports the right of Indigenous communities to respond to psychoactive substance use according to their traditional justice and/or cultural protocols. A public health approach is also being promoted for the legalization and regulation of cannabis and its related products in Canada.
The Canadian Public Health Association commends the Government of Canada for taking these actions and urges the continued expansion of this public health approach to manage all psychoactive substances that are currently illegal, as described in Managing Illegal Psychoactive Substances in Canada, a 2014 Discussion Paper. Central to this action is a reduction of the legal barriers which cause harm to individuals who use drugs. Such an approach could be similar to that currently in use in Portugal, as described in Appendix One.
---