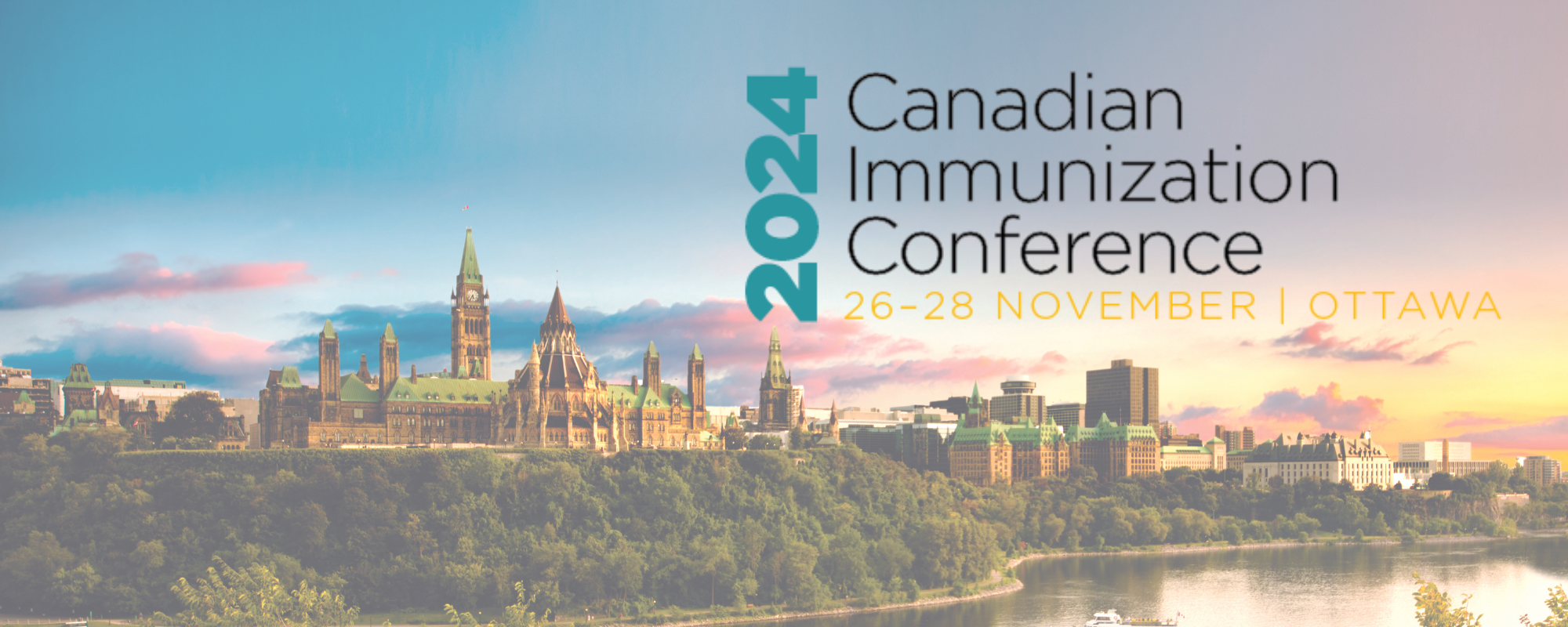 The Canadian Immunization Conference will return in 2024! 
26-28 November
Shaw Centre | Ottawa
Join experts and thought-provoking speakers at the 2024 Canadian Immunization Conference for a scientific program that will engage and inspire future research, policies and practices. 
The conference will be held in Anishinabewaki, the ancestral and unceded territory of the Algonquin Anishinaabeg People.
Sign up to our conference mailing list for important conference updates.
2023 FINAL PROGRAM
2023 PLENARY SESSION RECORDINGS
PLENARY I: APPLYING PANDEMIC LEARNINGS TO ROUTINE IMMUNIZATION PROGRAMS
Speakers
Na-Koshie Lamptey, Deputy Medical Officer of Health, Toronto Public Health
Theresa Tam, Chief Public Health Officer of Canada, Public Health Agency of Canada
Moderator
Manish Sadarangani, Associate Professor, University of British Columbia
PLENARY II: UNLEARNING AND UNDERGOING SYSTEMIC WHITE SUPREMACY AND INDIGENOUS-SPECIFIC RACISM IN PUBLIC HEALTH
Speakers 
Vera Etches, Medical Officer of Health, Ottawa Public Health
Kate Jongbloed (white occupier), CIHR-HRBC Health Systems Impact Post-Doc Fellow
Danièle Behn Smith (Eh Cho Dene & Métis), Deputy Provincial Health Officer, Indigenous Health, Province of British Columbia
Moderator
Bonnie Henry (white settler), Provincial Health Officer, Province of British Columbia
PLENARY III: A NEW ERA OF ADULT IMMUNIZATION
Speaker 
Melissa K. Andrew, Associate Professor, Division of Geriatric Medicine, Department of Medicine, Department of Community Health and Epidemiology, Dalhousie University
Moderator 
Shelley Deeks, Deputy Chief Medical Officer of Health, Department of Health and Wellness; Chair, National Advisory Committee on Immunization
PLENARY IV: PREVENTING AND PREPARING FOR THE RE-EMERGENCE OF VACCINE-PREVENTABLE DISEASES
Speakers
Cora Constantinescu, Clinical Associate Professor, Department of Pediatrics, University of Calgary
Folake Olayinka, Immunization Technical Lead, Global Health Bureau, USAID Washington DC
Moderator
Shelly Bolotin, Director, Centre for Vaccine Preventable Diseases; Associate Professor, Dalla Lana School of Public Health and the Department of Laboratory Medicine and Pathobiology, University of Toronto; Scientist, Public Health Ontario