Overview

---
Public Health 2020 is the national conference where public health professionals, researchers, policy-makers, academics, students and trainees come together to strengthen efforts to improve health and well-being, to share the latest research and information, to promote best practices and to advocate for public health issues and policies grounded in research.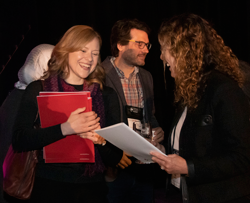 Sign up to our conference mailing list for important conference updates.
Have questions? Read through our Frequently Asked Questions.
Social media: #PHSP20
important Dates
Future Conference
Public Health 2021: 27-29 April 2021, Halifax, Nova Scotia
WHO SHOULD ATTEND
Anyone who is interested in improving the health and well-being of the entire population should be attending this conference. Public Health 2020 is the meeting place for a wide range of disciplines and sectors, at various career stages, all striving for a common goal. The conference may be of particular interest to: academics and researchers; students/trainees; policy-makers, administrators and managers; health promotion workers; front-line public health workers; media; people working in urban, rural, remote and small communities and anyone with an interest in public health.
PROGRAM
Starting a year in advance, the Steering and Scientific Committees oversee the development of the scientific and social program. The Steering Committee develops conference objectives and learning objectives that shape the entire program through a range of session types, including:
Plenary Sessions, planned by the Steering Committee, are keynote addresses or panel discussions that take place over the course of the conference on topics that appeal to all delegates;
Collaborator Sessions, planned by each collaborating organization, align with the overall conference objectives and each organizational mandate;
Workshops and Symposia, chosen by the Scientific Committee based on the open call for submissions and the results of the peer review process, provide delegates with concrete skills and insights on various topics;
Program showcase presentations, selected based on the results of the open call process, are 15 minutes in length followed by a panel discussion period at the end of all presentations. They are presented in groups of four based on key words;
Oral presentations, selected based on the results of the open call process, are 12 minutes in length followed by a 3-minute discussion period. They are presented in groups of five based on key words; and
Poster presentations, selected based on the results of the open call process, are displayed throughout the conference and are the focus of a special poster and networking reception.
CONFERENCE OBJECTIVES
Public health is constantly evolving and is directly impacted by our ever-expanding knowledge of the world in which we live and by the political climate of time and place. This means that everyone who works in population and public health needs access to cutting-edge research, up-to-date knowledge on what programs and policies demonstrate positive results, and access to diverse networks to help them do the best work possible. Public Health 2020 – Canada's largest public health knowledge exchange event – will provide delegates access to all of this, and more.
Delegates will explore the social and ecological determinants of health and discuss solutions to a wide range of complex and 'wicked' problems. They will have the opportunity to better understand how research, program and policy decision-making processes can be positively impacted through the use of diverse types of knowledge and through the active participation of those with relevant lived experience. Monitoring and improving population health and wellness is central to public health, and Public Health 2020 will pay particular attention to the health of Indigenous and racialized communities.
From advocacy to zoonosis, Public Health 2020 is where everyone interested in public health will meet.
Public Health 2020 will provide:
A dynamic setting that brings together researchers, policy-makers and practitioners to profile action-oriented best practices, evidence-informed interventions, successful strategies and new research from both domestic and global settings;
A venue that supports forward thinking, reflection and critical dialogue to prepare public health to meet future challenges;
A supportive environment for sharing innovative ideas and approaches to public health practice, policy and research that encourage further collaborations across and within sectors;
A multisectoral knowledge exchange and networking opportunity to discuss current public health issues from across Canada and around the world; and
A venue for public health professionals at all stages of their education and careers to collaborate, innovate and help shape the health and well-being of Canadians.
LEARNING OBJECTIVES
Having attended Public Health 2020, delegates will be better prepared to:
Articulate the current status of public health evidence, research, policy and practice;
Identify public health challenges and related solutions, trends, emerging issues and gaps;
Utilize effective evidence-based public health programs, practices, structures and systems; and
Identify strategies for knowledge translation and exchange.