Increasing Mobility and Sustainability with On-demand Transit Service in Powell River, BC

THE PROJECT
In 2020, the City of Powell River launched a pilot project to see if new on-demand transit technology could improve the quality of transit services, increase transit ridership, and help reduce carbon emissions from travel in the city by shifting more trips to transit from private vehicles. The Zunga Bus on-demand service was launched in the Westview area in Powell Review in early 2021.
BACKGROUND
The City of Powell River is located on the west coast of British Columbia (BC) across the Strait of Georgia from Courtenay. The City has a population of nearly 14,000, while the Region has a population of nearly 22,000. Five per cent of the population identifies as Indigenous.
A significant portion of the City's population could benefit from an efficient transit and affordable service with 36% of its population 60 years or older, 19% of its population under 20, 44% of its households living on less than $50,000/year, and 23% of its households living on less than $30,000/year.
THE PROCESS
The two core public transit modes in Powell River are fixed-route conventional bus and on-demand bus service, called HandyDART, which is tailored to a specific group of customers.
"We initiated this project because our existing transit service was not being used by many residents in our community," said Anastasia Lukyanova, Sustainability Planner for the City of Powell River. "At first, our goal was to increase ridership to reduce emissions of air pollutants and greenhouse gases associated with travel."
"In a small community such as ours, with residents spread over relatively long distances, it is difficult to provide efficient and convenient transit service," explained Anastasia. "Fixed route service can be efficient on the direct routes used most frequently but excludes a good portion of the community. HandyDart, on the other hand, is for people with mobility challenges only, and does not provide very convenient service. People have to book the day before, they may have to wait for 30 minutes for their rides, and the rides can take a long time."
Digital on-demand transit service was seen by the City as an opportunity to provide greater coverage and more direct routes: "On-demand transit serves trips as they are booked with no fixed routing or schedule, and can offer either door-to-door or stop-to-stop service, or a combination of the two. The limitation of on-demand service is that it cannot optimize wait times and travel times when passenger volumes exceed approximately 8 to 10 passengers per hour."
"We saw an opportunity to test on-demand transit when the federal government offered funding through its Built in Canada Innovation Program," explained Anastasia. "Spare Labs Inc. has a technology that applies an algorithm to ride requests so it can chart out the most efficient route for shared ride requests as they come in. People can request rides using their phones or smart phone apps. They can do that in real-time or book their rides in advance."
The federal funding covered the Spare Labs' technology and the cost of the new bus that was outfitted for people with and without mobility challenges; the City covered the costs for the extra drivers. The digital technology, which is not expensive, can be purchased as a subscription.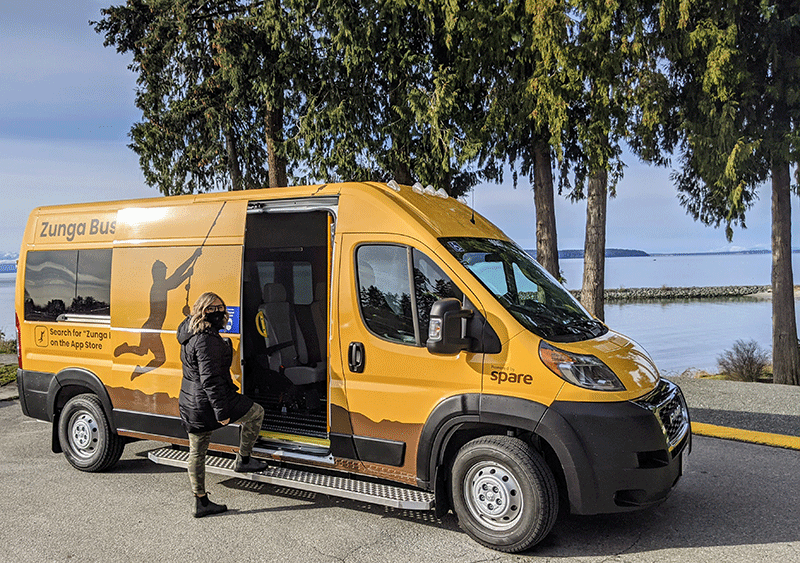 In 2021, the Zunga Bus covered a 15km2 service area and offered service seven days a week from 11:00 am to 6:30 pm with one bus. The target populations were youth and seniors, as well as people with mobility issues, but the service was available to anyone. The fare, $2.25 per ride, was the same as that charged by BC Transit. The City plans to add an additional bus to the project in 2022.
Unlike most other provinces in Canada, the Province of BC funds 50% of transit costs to communities of all sizes. However, that funding is currently only provided for conventional fixed-route service and HandyDart service. BC Transit does not currently fund on-demand transit.
"The City has decided to fund the project itself until the end of the year," said Anastasia. "We will be making our case to BC Transit during this time and hoping that they will agree to fund this mode of transit in the future for Powell River and other communities in BC."
OUTCOMES ACHIEVED
The evaluation report prepared on the Zunga Pilot Project found that:
Over a 10-month period in 2021, 1373 user accounts were created with 472 users who took at least one trip and 283 users who took more than one trip.
Approximately 55% of rides between April to September 2021 were pooled rides indicating that service was efficient and able to serve multiple customers at the same time.
Hotspot destinations included the recreation centre, the Town Centre Mall, Crossroads Village/library, the airport, the commercial area in upper Westview, Powell River Christian School, and Westview Elementary/Vancouver Island University.
As COVID-19 cases decreased, the number of weekly Zunga Bus trips steadily increased until the start of the next COVID wave. The number of weekly riders began to rebound following the second peak in COVID-19 cases.
The evaluation report concludes that the Zunga Bus was a success in both improved customer service and other transit performance measures such as convenience, accessibility, travel time and wait time.
"The project has been very well received by the community," offered Anastasia. "Through the evaluation, we have learned that the Zunga Bus can improve the physical and mental health of residents by increasing their access to essential services, recreational facilities, and social opportunities. Community groups who serve youth, older people and people with mobility challenges have expressed strong support for this service."
The feedback collected from individual riders was compelling. For example:
5-12 year olds: "…We had a day camp with the French Club for kids ranging between 5 and 12 years old and Zunga Bus was super helpful."
17 year old: "…I use it to get to work, go around places, and meet friends…."
48 year old: "I was wounded in Afghanistan…I have PTSD so taking a big bus is not a good option for me. Zunga Bus has been life-changing. I mostly use Zunga for my medical appointments…at least four times per week…"
Mother of Five: "…I don't have access to a car. If it would start at 9 that would be such a big help. A lot of people get off work at 7 so it would be great to have it run later. I get off work at 5 and then I get home and then I go grocery shopping so I have to be in and out of the store to catch the Zunga Bus home..."
42 year old: "I love it, I use it every day to get home from work. If it was available in the morning, I would use it to go to work. It has allowed us to reduce to one vehicle…"
58 year old: "I mostly use it to get home from work…This way I don't have to walk in the dark. I seldom use BC Transit bus. I did try it, I just never knew when it was coming, hard to figure out the schedule…"
72 year old: "I use it all the time when I'm able. Don't know how I'd get around without it…I don't drive and have trouble walking. I use it to meet friends at Starbucks, regular things…"
LESSONS LEARNED
The pilot project has offered some valuable lessons to Powell River. It has demonstrated that on-demand transit service:
Can increase ridership and the efficiency of service in a small, low-density community, which can potentially reduce carbon emissions;
Can play an important role in the lives of many people in a small community; not just for those who have mobility issues;
Can offer people new opportunities by increasing their access to jobs, schools, recreational facilities, and essential services;
Can improve health and health equity across the community; and
Can be part of the City's plan to reduce greenhouse gas emissions.
Prepared by Kim Perrotta, MHSc, Executive Director, CHASE
Last modified: July 13, 2023