Tobacco and Vaping Control Forum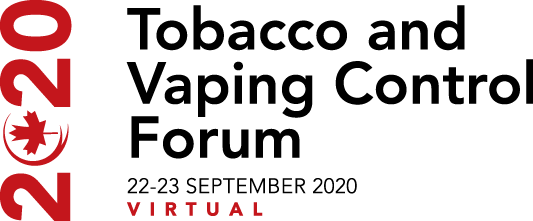 2020 Tobacco and Vaping Control Forum goes virtual!
As COVID-19 continues to dominate the headlines and every aspect of our lives, it is becoming increasingly clear that large, in-person events will not be happening in the foreseeable future. As there is still a need and desire to learn from and connect with each other, we are pleased to announce that the 2020 Tobacco and Vaping Control Forum will be held as a virtual event!
We will embrace existing and new technologies that will enable a modified version of the Forum. This virtual event is moving dates to 22-23 September 2020. While the daily schedules will look different, we will continue to host a range of session formats. 
Additional details regarding the program and registration will be available soon.  
Thank you for your patience and your ongoing support. We are devoted to the health and well-being of all our delegates and we remain hopeful for better times ahead.
To receive regular updates on the 2020 Tobacco and Vaping Control Forum, please sign up to our mailing list.
Scientific Program
The Scientific Program will be developed by the Forum Steering Committee based, in part, on the submissions received through the open call. Session types will include:
Plenary sessions composed of a keynote speaker or panel of distinguished speakers which are planned by the Steering Committee;

Workshops and symposia that provide delegates with concrete skills and knowledge on various topics chosen by the Steering Committee based on the open call for submissions and the results of the peer review process; and
Oral and poster presentations, selected based on the results of the open call and peer review process.
CONFERENCE OBJECTIVES
The 2020 Tobacco and Vaping Control Forum will provide participants the opportunity to:
Profile new research, successful strategies and best practices in tobacco and vaping control.
Connect stakeholders to shape the future of Canada's tobacco and vaping control research, policies and programs.
Examine current tobacco and vaping control-related issues from various disciplines and sectors and discuss relevant knowledge translation approaches.
Explore strategies to address emerging issues and potential impacts on decision-making, research, policy and practice.
LEARNING OBJECTIVES
Having attended the 2020 Tobacco and Vaping Control Forum, delegates will be better prepared to:
Utilize effective evidence-based programs and best clinical practices as well as policy approaches.
Describe tobacco and vaping control-related research and identify colleagues and partners to develop initiatives.
Identify tobacco and vaping control-related challenges and solutions, trends, emerging issues and evidence gaps.
Have Questions?
Contact us at conference@cpha.ca or 613-725-3769, extension 126.
Steering Committee
Ian Culbert, Canadian Public Health Association (Chair)
Mohammed Al-Hamdani, Canadian Lung Association, Nova Scotia
John Atkinson, Canadian Cancer Society
Michel Blanchard, Health Canada, Tobacco Control Directorate
Kevin Coady, Newfoundland and Labrador Alliance for Control of Tobacco
Flory Doucas, Coalition québécoise pour le contrôle du tabac
Les Hagen, Action on Smoking & Health
David Hammond, University of Waterloo
Stephanie Menezes, Heart and Stroke Foundation of Canada
Lesley James, DrPH(c), London School of Hygiene and Tropical Medicine