Wellspring's Money Matters program: helping cancer patients navigate the hidden financial challenges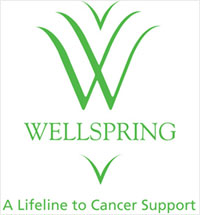 Wellspring is a not-for-profit organization that offers over 40 free programs and services to people living with cancer and those who care for them. It helps thousands of people take an active role in managing their cancer experience by providing learned coping skills, exercise programs, rehabilitation, education, and peer and group support to improve their quality of life. Through their Money Matters program, they are now addressing a less-talked about but nonetheless vital part of cancer patient's worries - their finances. The physical and psychological impact of cancer and its treatment may be easily imagined, but most do not think about the financial difficulties faced by cancer patients. Canadians often assume the costs are covered by provincial healthcare plans.


Listen to Pamela Bowes
(MP3: 8:11)
"How can you focus on your cancer diagnosis when you are worrying about money?" asks Pamela Bowes, the manager of program development at Wellspring Cancer Support Network.
To assist cancer patients with this important obstacle, Wellspring has created a unique service.  As Ms. Bowes explains, "The Money Matters program helps people navigate through the maze of income replacement and benefit programs as well as drug coverage options."
The black holes in universal healthcare
One in six Ontario cancer patients said the costs involved in cancer care were unmanageable. A 2009 national survey revealed that 91% of respondents with a diagnosis of cancer suffered significant loss of income coupled with increased personal expenses from travel, meals, parking, long distance phone calls, alternative or herbal treatments, drugs that may not be covered, new clothing due to drastic weight loss, and much more.1  In addition, primary caregivers, such as family or spouses also face financial difficulties as they must often leave work to attend appointments or care for their loved ones.
Income replacement programs in Canada can cover a certain percentage of lost income, subject to many conditions.  They also require complex application processes and extended wait times for payment.2   Cancer patients and their families may need to be on multiple income replacement programs, and understanding the different eligibility requirements and programs available can be a daunting task.
The birth of the Money Matters program
In 2002, Wellspring held an information session on the financial implications of cancer in Toronto.  It was evident that the attendees were unaware of where to obtain the necessary information, of their eligibility for multiple programs, and of the correct procedures to gain access to the income supplement programs. Wellspring realized that each person had a unique situation and needed customized information, and that individualized appointments would be pivotal in helping clients.
Money Matters was launched in 2009 with a full roster of services. As Ms. Bowes explains, "Through one-on-one meetings, case managers work with the patients to assess their financial situation, help them use their financial resources more effectively and direct them to applicable government programs and disability benefits." By increasing promotion to Wellspring members, hospitals and health professionals, the program demand has increased and continues to remain high. Numerous referrals are received daily from hospitals and medical professionals with approximately 50% of the new members coming to Wellspring through professional referrals.
Expanding on the successful Money Matters model
The success of the Money Matters program, plus the ongoing needs of its members has encouraged Wellspring to look at other ways to expand the program. They have now opened a number of on-site clinics where members can meet one-on-one with specialists such as lawyers, tax experts and financial planners.  An increasingly popular session features an employment law and long-term disability legal expert who assists cancer patients with issues regarding long-term disability, employment law, accommodation in the workplace, and transition back to work after treatment and recovery.
Money Matters is a unique program in Canada, and has received an Honourable Mention award from the Cancer Quality Council of Ontario. The organization has also received the Toronto Community Foundation Vital Ideas Award for their efforts to educate social work students.  The program has been so successful in Toronto that Wellspring has expanded it to other locations, including Oakville and Calgary. They are now involved in training social workers, students enrolled in social work programs, and other health professionals about the income replacement programs. Ultimately, the goal is to better help cancer patients manage their money worries, allowing them the peace of mind needed to focus on their health and recovery.
---
Hopkins, R.B., Goeree, R. and Longo, CJ. (2010). "Estimating the National Wage Loss from Cancer in Canada." Current Oncology 17(2): 40-49
Canadian Cancer Action Network. Canadian Cancer Society, Manitoba Division. Five-Year Action Plan to address the financial hardship of cancer in Canada: A call to action. 2012. Winnipeg, Manitoba