Universal programs in Canada
One hundred years ago, care for the sick and needy was essentially a local responsibility and communities were often faced with staggering health and welfare concerns. One of Canada's first social security programs was the Mothers' Pension Act, passed in Manitoba in 1916 to provide a small income to widows and divorced or deserted wives with children to support. Called "public assistance," the help was based on a means test.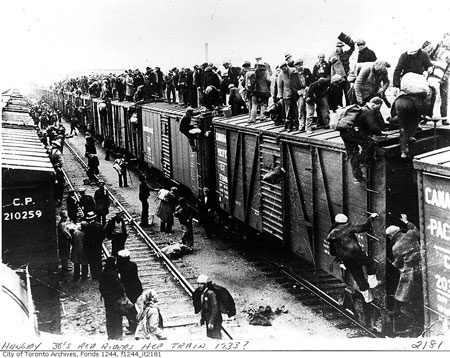 Great Depression: Unemployed men hop train  [ca 1933]
credit: City of Toronto Archives, Fonds 1244, Item 2181
During the severe worldwide economic Depression in the 1930s, 30 percent of the labour force was unemployed and the federal government was compelled to become involved in the massive problem of unemployment relief that was previously a local concern. Access to health care, always a problem for the poor, became a concern for the majority.
World War II solved the unemployment issue as Canadians enlisted in the military, but there were predictions that a Depression-like economy would return when the war ended. The federal government responded by introducing the Unemployment Insurance Act in 1940, which was Canada's first national social-insurance program. The mood was 'Never again would Canadians experience the financial and social ravages of widespread unemployment.'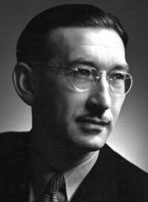 Dr. Leonard Marsh
credit: Options Politiques
A blueprint for postwar reconstruction, Report on Social Security for Canada by Dr. Leonard Marsh, was released in 1943 and recommended a "social minimum" to protect the disadvantaged through policies such as universal family allowances, a national health system and a large-scale national employment program. It reflected the widespread conviction that government had a vital role to play in enabling a healthy and productive society.
While the blueprint was considered too expensive for the times, one element, the Family Allowance, was introduced in 1945. Generally referred to as the "baby bonus," it was a monthly allowance paid to families with children to help cover the costs of child maintenance. It was Canada's first universal welfare program for it was paid to Canadian families with children regardless of income.
In 1952, the federal government introduced old age security, a program of universal pensions paid to all qualified residents 70 years of age and over. In 1957 the federal government agreed to share in the cost of provincial hospital insurance programs. In 1962, the Saskatchewan government introduced a universal, tax-supported, publicly administered medical care insurance plan, the first province or state in North America to do so. In 1966, their federal government passed the Medical Care Act to provide publicly funded medical care insurance plans in provinces on a cost-shared basis. And in 1966, the Canada and Quebec Pension Plans came into force, which provided social-insurance protection for retirement, disability and the provision of survivors' benefits. So by 1966 most of the recommendations proposed in Dr. Marsh's blueprint had become law, although not within an integrated system.
The growth of government activity in the sphere of social policy became identified with the concept of the welfare state, with publicly financed programs for income maintenance, social welfare services and health care services. Three examples of major social insurance programs for income maintenance in place today are Employment Insurance, the Canada/Quebec Pension Plan, and workers' compensation.
"Universality" began to change in 1989 when a special tax was introduced on Old Age Security and Family Allowance benefits. This tax, known as the clawback, dramatically changed the Canadian welfare state. Benefits were income-tested and reduced as income increased and eliminated altogether when a cut-off point was reached.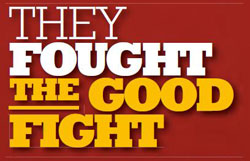 Two of Canada's current social insurance programs--Employment Insurance and the Canada/Quebec Pension Plan--can be considered universal in the sense that the level of income does not affect eligibility; both are called progressive because benefits are taxed. Quebec has universal programs that are not targeted, such as child care for all families regardless of income for $7/child/day and the lowest university tuition in the country for all of its students. So today, universality is defined and applied differently, depending on policy objectives.
Federal and provincial healthcare funding agreements are set to expire in 2014 and there are calls for an urgent national debate on what has long been regarded as Canada's sacred healthcare system. The Organization for Economic Co-operation and Development says Canada's medicare system, while offering "top-notch care," needs to contain costs if the future of the program is to be ensured. Heath care currently accounts for 42.1 percent of all government spending and future expenditures are predicted to escalate unless changes are made.
Will the principles of the public health system (universality, portability, comprehensiveness, public administration and accessibility), considered to be symbols of the underlying Canadian values of equity and solidarity, survive?
For more information: