Toronto's experiment: dog waste in litter bins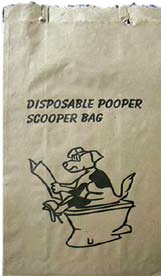 A few years ago, audits of what was in the litter bins in Toronto parks found that dog waste accounted for over 20% of the trash during the summer months.  Because this is both a health and environmental risk, the City explored different ways to deal with this problem.
A Green Bin Dog Waste Plan is currently being tested in some city parks. Large green bins are placed next to the litter bins, along with a paper bag dispenser.  Free, compostable paper bags and scoops are provided for owners to collect their dog's waste and deposit the bag, scoop and poop into the Green Bins. The waste collected goes to the city's organic waste composting plant.
Residents are still required to stoop and scoop their pet waste regardless of whether they make use of the park's Green Bin or carry the waste home for disposal.
Toronto's goal is to divert 70% of dog waste from its parks litter stream by 2010. The Dog Waste Pilot operates between the months of April and October.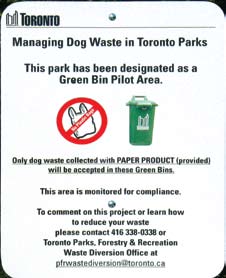 For more information