Think outside the (lunch) box!
Fun, nutritious, delicious... you can have it all when it comes to helping your child eat well at school!

1. Ask them!
Give them the final say among a few healthy choices, "Do you want a pear or grapes today?" "Milk or 100% orange juice?" "Salsa or salad dressing for dipping your veggies?" "Want your turkey on whole grain bread, a bun, or in a wrap?"
2. Mix it up!

Lunch doesn't always have to be about sandwiches: leftovers from last night's supper, cold pancakes or waffles, perogies, soft-shelled tacos... keep them guessing. Be as creative as possible -- try to include lots of bright colours. Kids love fun containers -- take your child to the dollar store and let them pick some out.
3. Avoid pre-packaged lunches (they tend to be high in salt and fat)
Make your own with low-fat cheese sticks and lower-fat meats cut into shapes, or give them pita bread with tomato sauce, cheese and toppings to make their own mini-pizza
4. Reduce foods that are high in fat and sugar... but you don't have to completely eliminate them!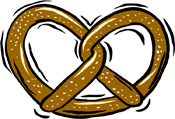 Allow kids to have some fun foods, but try to choose baked and/or lower fat over the deep-fried high fat options (think fig newtons, granola bars and pretzels instead of Oreos and deep-fried potato chips).
Five easy steps to building a perfect school lunch using Canada's Food Guide...
Choose your "main course"
Lunch doesn't always have to be about sandwiches (see Mix it Up above), any combination of protein and grains can work
Step 1 -- Choose a healthy source of protein (lean meat, eggs, tuna, beans, peanut butter... check the Meat and Alternatives group for ideas)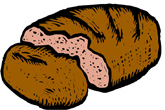 Step 2 -- Choose a bread or grain to go with it (whole grain bread, tortilla wrap, soft taco, crackers, pasta salad, rice... check the Grain Products group for ideas)
Choose your dairy product

Check the Milk and Alternatives group for ideas.
reduced-fat cheeses in cubes, sticks and other fun shapes
low-fat yogurt in spoon-able, drinkable or squeeze-able containers
fruit smoothie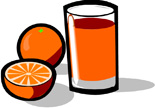 Choose your beverage
Drop the Pop! Stick with water, milk or 100% juice -- but that doesn't mean you have to be boring.
chocolate or other flavoured milk
calcium-fortified soy milk
fruit smoothies
water with a slice of lemon or lime
hot chocolate made from milk and "real" cocoa powder

Choose your fruits & veggies
Fresh or canned work equally well. Cutting them up, including a healthy dip and using fun containers will make it more likely kids will eat them. Check the Vegetables and Fruit group for ideas.
red/green/yellow pepper strips with dip (try mixing low-fat sour cream with dry onion soup mix)
orange/apple/pear slices with yogurt dip
canned fruit cocktail or peaches in 100% juice, or unsweetened applesauce
baby carrots with a dip of low-fat salad dressing
"fruit kabobs" (colourful fruit chunks on a stick)
banana rolled up in a tortilla with peanut-butter and cut into slices
grapes!
Choose your "fun food"
If the junk food's not there, it's not an option. There's healthier choices that they will still love.
small piece of dark chocolate
little bag of trail mix
granola bar
small box of raisins or other dried fruit
container of their favourite healthy cereal
baked chips
yogurt covered pretzels

Healthy, well-fed kids are better learners. Help your children be their best at school by fueling their days with healthy food choices.
Source and for tips on how to help your child eat well at home: Yukon Health and Social Services
For ideas on preparing safe and healthy lunches for your children, see Dieticians of Canada