Serving refugee populations - Toronto Roma community



Listen to Ruby Lam
(MP3: 10:14)
Recent cuts to the Interim Federal Health Program (IFHP) triggered concern at Toronto Public Health about how to effectively provide services that meet the needs of diverse marginalized populations. For Ruby Lam, manager of Access and Equity at Toronto Public Health, this change required a deeper and culturally sensitive understanding of the needs of underserved populations.
One such group in Toronto is the Roma community. As a refugee population, the Roma community has experienced a centuries-long history of discrimination, harassment, and disenfranchisement from governments and the public. Toronto Public Health became aware of the extraordinary challenge of serving the Roma community through various reports from frontline practitioners. With the information coming in from practitioners, it became clear to Toronto Public Health that, while the Roma are a significant population in Toronto, proper understanding of their culture and health needs, as well as targeted outreach efforts, were lacking. For example, the Roma community exhibits unusual patterns of health service usage that were not seen with other groups. "Clients would show up for the first one or two sessions of an eight-week peer nutrition or healthy baby type of program ... and then they would drop off," said Lam.
Roma culture also values family unity, and some Roma patients reportedly arrived at clinics for individual appointments with their whole families and were reluctant to be separated from them. Practitioners reported that when Roma people presented to health care services, "they had high and complex health needs, high rates of chronic illness, poor dental health, often poor nutritional health. We saw that often families were presenting together, so it raised questions about why this was happening. We found out... it's because the Roma... are sometimes not trusting of authority figures, of governmental services, even when a service is there to help people, there's a certain level of mistrust." Lam says for marginalized populations, especially the Roma, successful service provision can only be achieved through respectful, equitable, long-term relationships between care providers and patients.
Examining the service usage patterns of the Roma community showed Toronto Public Health that for refugees navigating the health care system, the problem is not always apparent. Problems are often thought to be caused by language barriers or a misunderstanding of the services available to them. However, with the Roma, it seemed that problems arise from an uncertainty that they will be treated with respect and dignity. For example, providing the Roma community with ethnic Hungarian interpreters may create its own problem, since Roma seeking refugee status in Canada have often experienced discrimination from ethnic Hungarians in Europe.
Understanding the Population: The Roma Health Forum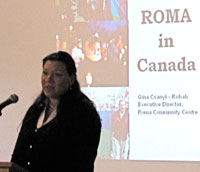 The Roma Health Forum was originally planned in collaboration with the Roma Community Centre as an internal event, meant to exchange information about meeting the needs of this vulnerable population. The Roma community was eager to participate in the health forum, and partnered with Toronto Public Health to ensure that adequate information was presented on the health needs of the Roma in Toronto. The Roma Health forum created a setting in which "an underserved community could tell [its] story to a room full of very enthusiastic and committed service organizations from across the city who were ready to offer some help," said Lam. Strong public interest encouraged Toronto Public Health to open the event to the broader community. Within one day, the 200 seats available to the public were filled with representatives from 118 public service organizations all desperate for information on how to provide adequate services to this community.
The forum not only acknowledged the need for meeting the immediate health concerns of the Roma, but also the need for change in the public policy process of Toronto Public Health and the participant organizations. The Roma Health Forum highlighted the need for providing a platform for marginalized communities to communicate their health needs and strategies for addressing them.
The Roma Health Forum came at just the right time: the government had recently made cuts that diminished the health care services available to refugees. This action not only reduced health care accessibility but also spread confusion about the remaining services to which refugees are entitled.
Success and the future
The Roma Health Forum was a huge success, facilitating the exchange of information and generating knowledge about the needs of Roma in Toronto. Toronto Public Health has received some positive responses from the Roma community, including increased uptake of targeted health programs. "We're providing a peer nutrition program that is specifically for the Roma community," said Lam. "The Roma community now does a cooking session in one of our facilities using our kitchens." Many health promotion programs at Toronto Public Health have gone to work directly with the Roma Community Centre to partner and increase service usage among the Roma community.
Lam is confident that the success of the Roma Health Forum may influence how Toronto Public Health works with other vulnerable and marginalized populations in the future. "Efforts like this pay off... This information will help Toronto Public Health become better service providers."