Reducing deaths and injuries on our roads
On average, seven Canadians die in road crashes every day; many more are seriously hurt. Car crashes kill more children than any other injury-producing incident.
The good news
The number of deaths on our roads has been reduced to fewer than 2,500 a year, compared to the mid-1970s, when more than 6,000 Canadians were dying each year. This reduction can be attributed to a number of factors, including new motor vehicle safety standards, improved highway engineering and four-lane divided highways, increased enforcement of traffic laws, and changes in public attitudes toward road safety issues and better medical treatment of trauma.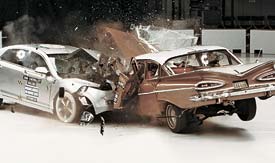 Vehicle safety features
Today's vehicles are much safer than they were in the past. Not only have new features been added, like seat belts, electronic stability control, daytime running lights and air bags, but features like brakes and tires are always being improved. In addition, standards for children's car seats have been improved and usage has increased.
1971: Seat belts required in new vehicles
Since the early 1970s, Transport Canada has required that seat belts be fitted in all new motor vehicles in Canada. The provincial and territorial governments all have legislation requiring the use of seat belts and child restraints. Today 93% of Canadians use their seat belts. For every percentage point increase in seat belt use, an additional 23 lives are saved each year. Given that it has been estimated that each fatality costs society $1.5 million, one percentage point increase in usage rates means a savings of $34.5 million.
Mid 1980s: ABS
ABS is an abbreviation for Anti-lock Braking System. It was designed to help the driver maintain some steering ability and avoid skidding while braking. ABS has become "standard" equipment on the majority of vehicles sold in Canada. ABS in cars and most Multi-purpose Vehicles (MPV's) works on all four wheels. This promotes directional stability and allows steering while maximizing braking.
1987: Centre high-mounted brake lights
The centre high-mounted brake light was introduced in 1987. It is an additional light mounted on the back of a vehicle in a high position. When you touch the brake pedal, this light illuminates together with the lower positioned brake lights and is visible to drivers of following vehicles who may not be able to see the lower brake lights.
1990: Daytime running lights
Since December 1st, 1989, all motor vehicles manufactured for sale in Canada have been equipped with daytime running lights. These lights operate automatically during daylight hours and make vehicles more visible to other drivers and road users.
1996: Trailer conspicuity markings
Conspicuity, red and white reflective tape was introduced on all large trailers in 1996. At night, these reflective devices allow early detection and identification of large trailers and prepare drivers to avoid crashing into parked or manoeuvring trucks with trailers.
2007: Immobilizers
Immobilizers, required on all vehicles since 2007, make it difficult for vehicle engines to be started without first being disarmed by way of an electronic code, typically transmitted through an encoded vehicle key or a combination keypad. These immobilizers reduce vehicle theft and joyriding.
2011: Electronic Stability Control required in new vehicles
Electronic Stability Control (or ESC) is a crash avoidance system found on many recent vehicles. ESC will help you stay in control of your vehicle when you need to swerve or brake suddenly to avoid an obstacle. Transport Canada has introduced the new Canada Motor Vehicle Safety Standard 126 that requires an ESC system on all passenger cars, multi-purpose vehicles, trucks and buses with a Gross Vehicle Weight Rating of 4536 kg or less, and manufactured on or after September 1st, 2011.
---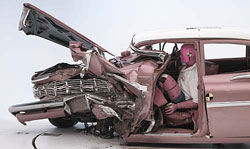 ---
Road safety-engineering countermeasures that help reduce serious injuries and fatalities on our roads
Divided highways
Divided highways separate opposing directions of traffic by a central barrier or strip of land. This reduces the number of often-fatal head-on crashes. Changing highways from undivided to divided can help reduce collisions by up to 60%.
Shoulder rumble strips
Shoulder rumble strips help prevent single vehicle run-off-road crashes. The noise and vibrations generated by driving over them work together to warn inattentive or drowsy drivers travelling on or too close to the shoulder of the road. These are often used on freeways and rural roads and can reduce single-vehicle run-off-road crashes by nearly 20%.
Rigid barriers
Rigid barriers placed at the shoulder or median keep drifting vehicles from leaving the roadway and having a more serious crash. They can reduce deadly crashes by up to 52%.
Roundabouts
A roundabout is an intersection where traffic flows in a counter-clockwise circle around a centre island. Changing intersections with stop signs or traffic signals to roundabouts can reduce the number of intersection crashes by 40%, and fatal and injury-related crashes by 80%.
Passing lanes
A passing lane can be added to a two-lane highway for a limited length of road. It gives drivers a chance to safely pass slower moving vehicles, reducing the temptation to take risks. Passing lanes can reduce such crashes by up to 38% and severe crashes by up to 29%.
Driver improvement programs
Impaired driving
Over the past 30 years, significant improvements have been made in dealing with the issue of impaired driving. Since 1969, when the 80mg% per se law was passed by the Parliament of Canada, there have been significant reductions in the number of impaired drivers on the road. The Criminal Code of Canada has been improved and strengthened a number of times since; most recently in 2008, when penalties were increased and a procedure for investigating drug impaired driving was introduced. The government is once again examining the impaired driving laws and considering a number of options recommended by the Standing Committee on Justice and Human Rights.
Provincial and territorial programs for dealing with impaired drivers have also had a significant impact. These include mandatory medical assessment, short-term roadside suspensions for lower Blood Alcohol Concentrations and administrative licence suspensions. The introduction of alcohol ignition interlocks in 1992 also helped reduce the chances of impaired drivers being on the roadway.
Graduated licensing
In the mid-nineties, provinces and territories began introducing graduated licensing systems that are based on the gradual introduction of more complex driving tasks to new drivers as they gain more experience. These programs have contributed to significant reductions in deaths and injuries of new, young drivers. These programs continue to be improved by adding restrictions on the use of telecommunications devices above and beyond those for all drivers.
Road safety awareness
Through the Canadian Global Road Safety Committee, the federal government, provincial and territorial governments and other road safety organizations work to increase awareness of the importance of road safety. Starting in 2008, the Committee and its member organizations conduct activities in support of a national annual Day of Remembrance for Road Crash Victims.
In 2007, Canada sponsored 8 young Canadians to participate in the United Nations Week of Road Safety, Focus on Youth in Geneva. The result was a youth declaration presented to the United Nations General Assembly and the creation of the Canadian Global Road Safety Youth Committee.
Source: Transport Canada. Road Safety and Motor Vehicle Regulation