Overview: healthier mothers and babies
In the early 1900s, many major health threats were associated with poor maternal and infant health. Since that time, there has been a significant decline in maternal and infant death rates because of improved sanitation, nutrition, standard of living, and level of education. Later, advances in clinical medicine, improved access to health care, and better surveillance and monitoring of disease also contributed to what has been described as a remarkable decline. Today, the health of mothers and children in Canada is among the best in the world.

In 1938, the Deputy Minister of Health in New Brunswick said that in some parts of the province, 70% of births were not attended by physicians and in fact received no medical care at all. In 1945, the Dominion Council of Health reported that an estimated 175,000 pregnant women in Canada were not receiving prenatal care, that there was an urgent need to standardize care of mothers in clinics, and that most clinics were operated by volunteer agencies. In 1951, Canada's infant mortality rate was 28% higher than England and Wales and 41% higher than the United States.
Today, maternal mortality in Canada is among the lowest in the world. Infant mortality continues to decrease in Canada, with a rate of 5.1 infant deaths per 1,000 live births in 2004. Contributing to this overall decrease is the decline in infant deaths due to birth defects and Sudden Infant Death Syndrome. The leading cause of infant death in Canada is immaturity due to preterm birth.
The Public Health Agency of Canada has identified 10 effective interventions that can continue to improve maternal, infant and child health:
Smoking cessation programs during pregnancy
Screening and counselling women who drink alcohol during pregnancy
Use of vitamin supplements containing folic acid
Maternal serum screening or Triple test
HIV testing
Group B streptococcus screening
Breastfeeding
Parents' education on proper sleeping position
Immunization
Public health education and counselling of parents in reducing death from unintentional injuries
Breastfeeding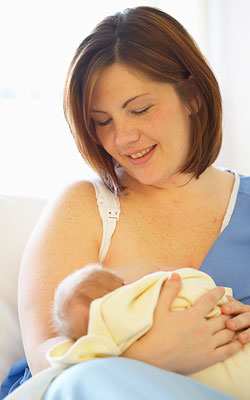 Health Canada promotes breastfeeding as the best method of feeding infants as it provides optimal nutritional, immunological and emotional benefits for the growth and development of infants. Health Canada recommends that the baby be fed only breast milk for the first six months of life (for healthy term infants), which excludes water, breast milk substitutes, and other liquids and solid foods. Infants should be introduced to nutrient-rich, solid foods with particular attention to iron at six months, with continued breastfeeding for up to two years and beyond.
Canada extended maternity leave for mothers at the end of 2001 and since that time more new mothers have met these breastfeeding targets. Statistics Canada reports that following the policy change, the proportion of eligible mothers who breastfed exclusively for at least six months increased from 20% pre-reform to 28% post-reform.
In 2005, 87% of recent mothers surveyed started breastfeeding when their baby was born. Only 16% of mothers reported exclusive breastfeeding when the baby was six months old.
Aboriginal mothers and babies
Aboriginal Canadians face higher risks of adverse pregnancy and infant health outcomes than the general Canadian population. Reports indicate that still birth and perinatal death rates for Aboriginal children are about double the Canadian average; among Inuit living in the Northwest Territories, they are about 2 1/2 the Canadian average.
A majority of pregnant Aboriginal women in rural/remote/isolated areas spend at least the last four weeks of pregnancy outside their community. This evacuation practice has been widespread since the 1970s, prevents fathers and extended families from sharing in the birth of babies, and has had a negative impact on bonding from birth. There is growing recognition that labour support for all mothers is a right and that social and emotional support during pregnancy and childbirth has the potential to improve health outcomes for First Nations women and children.
For more information
The Canadian Maternity Experiences Survey, Public Health Agency of Canada

Celebrating Birth: Exploring the Role of Social Support in Labour and Delivery for First Nations Women and Families,

National Aboriginal Health Organization