Montérégie, Quebec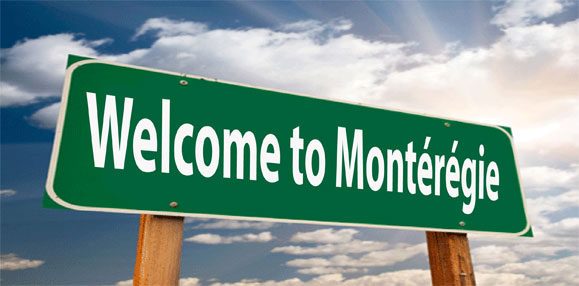 Listen to their story
in French (MP3: 7:33)
"We understand that the health of citizens is closely linked to their living environment," states Émile Tremblay, a planning, programming and research agent with the Direction de santé publique (DSP) in Montérégie, QC. "When we consider a municipality as a living environment in and of itself, we can't dissociate it from the health and quality of life of its citizens."
Promoting policies that are favourable for health and wellbeing
DSP Montérégie's action plan in 2009-2012 emphasized the importance of policies that promote health and wellbeing. On the municipal level, governments are able to promote the health of residents in many ways. In light of this, the DSP judged it appropriate to collaborate with municipalities on the development on healthy public policy. The organization adopted a Health Impact Assessment (HIA) approach to support the collaborative decision-making process.
This five-step HIA process (prospecting, screening, scoping, analysis and recommendations) allows municipal decision-makers to anticipate the impacts of a policy or project on the social determinants of health, which can affect the health of the community. Developed by a multidisciplinary team of public health professionals and validated by key members of the community, the recommendations that are submitted to the municipal decision-makers aim to maximize the positive effects of policies or projects and mitigate the potentially negative effects and reduce health inequalities.
It is in this context that the DSP Montérégie conducted an HIA with the municipality of Acton Vale, Quebec.
Promoting healthy policies
Many different fields must come together to properly examine the determinants of health. DSP Montérégie worked with partners in the community including the Centre de santé et de services sociaux Richelieu-Yamaska (CSSS) and local government to perform an HIA in support of a housing development project in Acton Vale.
"This approach is grounded on the needs of municipalities, as they are the ones who in reality elaborate their own projects and policies," says Tremblay. "We approached the project with an inclusive, long-term perspective with regards to safety and health."
Health is rarely emphasized when planning land-use projects. Financial and technical considerations tend to be the main considerations. The DSP seeks to reverse this trend by educating municipal decision-makers about the potential long-term health impacts of such projects on future residents.
The collaborative team considered many characteristics of the built environment that could contribute to the health of residents. The team submitted a document to the municipal government containing thirty recommendations based on 4 key health determinants:
Noise
Safety
Travel and Physical Activity
Social Capital
These characteristics were studied because they are known to influence the incidence of trauma due to road accidents, cardiovascular disease and other chronic conditions, and mental health.
Thoughtful planning = better health
By taking health impacts into account during the development of municipal projects, it is possible to improve the overall health of the population and create opportunities for health promotion. Throughful planning can:
Prevent accidents with safe street design, which includes bicycle paths, lights, signs and crosswalks.
Reduce noise that can cause sleeplessness, fatigue, lack of productivity, anxiety and depression.
Encourage active transport, which is defined as "any kind of human powered transportation." Examples include: walking, biking, rollerblading, etc. Active transport has been linked to lower rates of obesity and cardiovascular disease in communities.
Improve social cohesion - it is important to consider how a new branch of the community will integrate with the existing group. Equal access to community resources and activities promotes good mental health.
Noise levels and accident prevention were considered priority issues for the Acton Vale project due to the proximity of a snowmobile track and a major highway. The team planned parks for the new development that would be accessible to everyone as a means of promoting physical activity and long-term health. Sidewalks, crosswalks and streetlights were carefully planned with safety and walk-ability in mind.
Challenges
When involving professionals from multiple sectors in a single project, there is bound to be some communication issues. Tremblay points out the challenges of translating scientific terminology into plain, clear language. After all, how someone can approve an idea that is too complicated to understand?
"It was outside our comfort zone," Tremblay admits. However, the exercise was good practice for future endeavours. "It's important to find the happy medium between professional science language and "vulgarized" science language that permits people to really understand."
Moving forward
The project was a positive experience for the DSP and a resounding success.
"The mayor and his people were receptive and flexible," says Tremblay. "They were open to changing the project as new information and new evidence came in. The spirit and innovation showed by our municipal partners and other collaborators was encouraging."
The success of the Acton Vale project spurred the DSP Montérégie to offer Health Impact Assessments as a permanent service and to integrate them into its 2012-2015 regional action plan. It is hoped that this service will contribute to better health over the long term through collaborations with all sectors.
"A project like this shows the need for strong and sustained collaboration between different professionals, which results in one document and one common analysis for a project in the context of one municipality," says Tremblay. "We can see that collaboration is necessary to be able to properly inform our municipal partners and to eventually improve their projects and their policies."