Milestones: control of infectious diseases
1867 - Tuberculosis (TB) is the leading cause of death in Canada
1897 - The first Canadian sanatorium for tuberculosis opens in Gravenhurst, Ontario, run by the Toronto-based National Sanatorium Association under the leadership of Sir William Gage.
1902 - Muskoka Free Hospital for Consumption opens, believed to be the first free sanatorium for TB treatment in the world.
1910 - The first polio outbreak in Canada is recorded.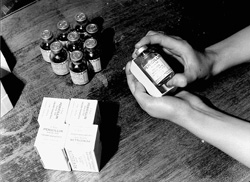 View of penicillin vial being packed for shipment at the Connaught Labs. Toronto, Ontario. May 1944.
1918 - A public education campaign against VD is the first shared federal-provincial health program.
1928 - Alberta opens the Provincial Special Hospital for Infantile Paralysis in Edmonton to treat the growing number of children crippled by polio.
1943 - Penicillin is used in the treatment of Canadian soldiers overseas.
1955 - The Salk polio vaccine is introduced in Canada.
1959 - The last major polio epidemic in Canada occurs, with nearly 2,000 paralytic cases.
1994 - Canada is certified "polio free" by the Global Polio Eradication Initiative.
Photo credit
View of penicillin vial: Harry Rowed / National Film Board of Canada. Photothèque / Library and Archives Canada