Milestones: acting on the social determinants of health
1910 - Medical inspection of children in schools began in several parts of Canada, led by the city of Toronto and the province of British Columbia.
1916 - First recorded use of chlorination to disinfect drinking water in Peterborough, Ontario.
1920s - During the early 1920s, increasingly elaborate public education campaigns were central to the success of any public health strategy, whether targeting maternal and child health issues or the prevention of infectious disease threats.
1920 - The Ontario Board of Health launched one of the more "progressive" maternal and child welfare programs by employing public health nurses and providing them with a motor car to arouse interest in pre-natal care.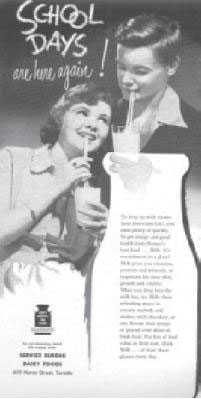 1930s - This drought is usually remembered as the worst in Canadian history because it lasted for almost the entire decade and coincided with the Great Depression. Around the world, there were unprecedented levels of poverty and unemployment. In 1931, federal officials and the Red Cross announced plans to aid victims of drought.
1938 - Ontario is the first large jurisdiction in the world to implement compulsory pasteurization of milk.
1941 - The Unemployment Insurance Act came into effect, intended to temporarily help people who were between jobs.
1942 - During wartime, food and gasoline were in short supply, so they were rationed in Canada.
1944 - The Family allowance began, which was Canada's first universal welfare program. Generally referred to as the "baby bonus," it was a monthly payment to Canadian families with children, regardless of income.
1947 - Saskatchewan introduces North America's first universal and compulsory public hospital insurance program.
1948 - A National Health Grants Program was launched, initially providing $30 million annually to provincial health departments for new or extended health services, including public heath research.
1948 - Canadian Dr. Brock Chisholm was elected as the first Director-General of the World Health Organization.
1949 - Iodinization of salt becomes mandatory, which eventually eliminates goiter throughout the country.
1952 - The Old Age Security Act came into force as one of the cornerstones of Canada's retirement income system.
1954 - The Food and Drugs Act is strengthened to prohibit the preparation and sale of food, drugs or cosmetics under unsanitary conditions, with violations a matter of criminal law.
1955 - The Northern Health Services were established, along with a new Indian and Northern Health Services Directorate.
1962 - Saskatchewan's Medical Care Insurance Act took effect, creating Canada's first comprehensive public healthcare program.
1971 - The federal government started to provide funding for birth-control information and services across Canada.
1974 - The landmark federal report, New Perspectives on the Health of Canadians (Lalonde Report), showed that healthcare is just one factor in how health is created and set the stage for the modern movement in health promotion.
1978 - The Canadian Centre for Occupational Health and Safety was created by an Act of Parliament, based on the belief that all Canadians had "...a fundamental right to a healthy and safe working environment".
1982 - The Canadian Charter of Rights and Freedoms was signed into law by Queen Elizabeth on April 17, 1982.
1986 - Health promotion becomes the guiding principle behind the further development of public health in Canada, driven by the federal report, Achieving Health for All: A Framework for Health Promotion. This report placed greater emphasis on the key determinants of health.
1986 - Canada hosted the first International Conference on Health Promotion, at which the Ottawa Charter for Health Promotion was presented. This Charter called on national governments to establish health promotion strategies and programs.
1991 - The Royal Commission on Aboriginal People was launched - the most extensive study and consideration of issues affecting Aboriginal peoples in Canadian history.
1993 - An amateur video of Innu children in Davis Inlet sniffing gasoline is aired nationally in Canada, leading to public outcry, and immediate transport of families for treatment and rehabilitation in Alberta.
1996 - Sexual orientation was added to the Canadian Human Rights Act. Amendments in 1998 required employers and service providers to accommodate special needs short of undue hardship, including those of people with disabilities.
1998 - Canada's Prenatal Nutrition Program was established to provide long-term funding to community groups to develop or enhance programs for vulnerable pregnant women.
1998 - Canada mandates the fortification of white flour, enriched pasta, and cornmeal with folic acid.
1998 - Aboriginal Healing Foundation is established, in part as a response to the Royal Commission on Aboriginal Peoples.  The commission identified Residential school abuse as having impacted the disproportionate levels of substance abuse and addictions in First Nations and Inuit communities.
1999 - The Social Union Framework Agreement came into force; federal, provincial and territorial governments (except Quebec) agreed to a collective approach to social policy and program development, including health.
2000 - The National Aboriginal Health Organization was founded, committed to influencing and advancing the health and well-being of Aboriginal peoples.
2002 - The Commission on the Future of Health Care in Canada (Romanow Commission) released its report, Building on Values: The Future of Health Care in Canada, made recommendations on Canada's health care system.
2003 - The first and only supervised injection site in North America, InSite, opened in Vancouver in September 2003.
2007 - Fetal alcohol syndrome was identified as the leading cause of mental disability in Canada, with the estimate that 37 per cent of Canadian babies have been exposed to "multiple episodes of binge drinking" while in utero.