Homeless at risk prenatal (HARP) program; Toronto, Ontario
Reaching out to pregnant women on Toronto's streets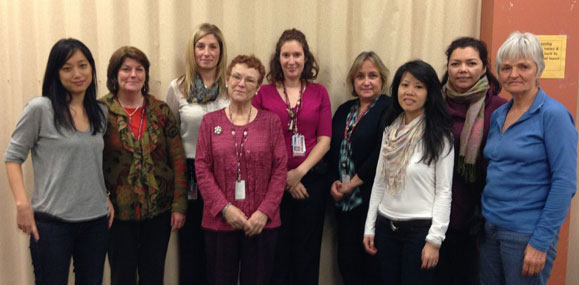 Listen to Alice Gorman
(MP3: 9:28)
"I've always very firmly believed that people are equipped to look after themselves and sometimes they just need a little bit of support. We're building on positives. We believe in being respectful and providing a dignified service for people."
Alice Gorman, Healthy Families Manager at Toronto Public Health, is very passionate about the Homeless at Risk Prenatal (HARP) program funded under the Healthy Babies Healthy Children (HBHC) initiative. HARP was implemented in 2007 after nearly ten years of lobbying for better healthcare for the city's pregnant homeless and transient women. Today, a dedicated team of nurses, dietitians and managers work closely with local hospitals, shelters and other organizations to ensure these women have the safest pregnancy and the healthiest babies possible.
It begins with trust
Working with women that most often have a traumatic history can be challenging. It takes time and effort to build trust.
Small victories are important to the HARP team and their community supporters. Victories can be as minor as getting a woman to increase her protein intake with food coupons or as major as convincing her to give birth in a hospital. Success indicators give the team a good idea of how things are going for the client. For example: did the woman show up for her prenatal screening appointment this week?
"There are huge issues with mental health and substance abuse in this population," says Gorman. "We approach it very much in a non-judgmental, truly client-focused and respectful way. We are working with a harm reduction method, trying to get people [to do] what works best for them in the moment. I think we are very realistic about what our outcomes will be."
Homeless and transient women often do not keep a regular schedule, so flexibility is important to accommodating HARP clients. When a person reaches out for help, the nurses spring into action as their window of opportunity tends to close quickly.
Gorman speaks a lot about how many of their clients are closed because of what has happened to them. "The perception of the client is that nobody is really listening. They may not have received the medical care they needed when they needed it. They've had previous pregnancies where there have been apprehensions."
Responding quickly makes a difference
The HARP nurses have started carrying cell phones with them. Texting has become a great way to maintain contact with clients, answering spontaneous client questions or dealing with emergency situations quickly.
Fast action requires a large network of different disciplines, but the program found building solid community partnerships was initially difficult. In the past, many social services similar to HARP worked in isolation. There was little communication and coordination between organizations and no joint plan in place. Now Gorman credits much of the program's success to the strong partnerships in the community. Their associates have been instrumental in identifying potential clients and referring them directly to a HARP nurse.
Hospital alignments allow the HARP nurses to request fast-tracked prenatal care such as blood work and ultrasounds. The team refers women to shelters that support their pregnancy, allowing them to stay longer. They bend the rules so the women are subject to better hours, which give them more freedom to attend checkups. They do their best to accommodate a woman's partner as she is less likely to stay in a shelter if her partner can't stay with her.
HARP also works very closely with Children's Aid to ensure the welfare of the mother and baby after birth. "Our primary focus is to make sure that this woman is as healthy as possible but we are also ultimately concerned that this child has a better future. Children's Aid needs to be there to make sure that this future is solidified," says Gorman.
Evaluating what works and what doesn't
The HARP team takes the time to look carefully at their process. They hold regular meetings to discuss what has worked and what has not. HARP also solicits feedback from the community and the clients themselves. Taking all these elements into account, HARP staff recently sat down to evaluate and plan their program. "We've spent a bit of time developing a logic model which I didn't think any of us would enjoy," says Gorman, laughing. The experience ended up being a positive one. "We were able to put on a one-page document all the things that we do and all the changes that have happened. It gave us time to reflect. It was a pretty amazing experience in lots of ways."
This kind of careful planning and communications has been in place since the project was founded. Before launching a full initiative, Toronto Public Health first explored the idea of prenatal care for the pregnant homeless with a pilot project and full literature review. The pilot honed the response process and provided evidence that encouraged future funding.
While working with such marginalized populations is a challenge, working on social determinants of health issues is rewarding. Gorman says, "One of the things that makes us the most proud is when the team gets a call from one of our former clients who says: 'I have a friend who's pregnant and I want to introduce her to you.' It means that we have helped somebody enough that they share the resource with somebody else."
Resources