History of tuberculosis
In 1867, tuberculosis (TB) was the leading cause of death in Canada. The bacterium that causes TB, the tubercle bacillus, was discovered by a German scientist, Robert Koch, in 1882.
Proof that TB was contagious led to organized efforts to isolate those infected in sanatoria -- special hospitals where patients could rest and get fresh air and a good diet.
The "rest cure" was the most common treatment for TB until antibiotic treatment was developed in the 1950s.
Another form of treatment was "collapse therapy." Surgeons pumped air into the chest cavity so the lung could relax and the tuberculosis lesion could heal. The use of collapse therapy was first recorded in Ingersoll, Ontario in 1898, but it did not become standard Canadian practice until 1919.
The first tuberculosis survey in Canada was conducted in 1921 by the Saskatchewan Anti-Tuberculosis Commission to determine the rate of infection among school children. The survey found that more than half of the children were infected with TB.
Travelling TB clinics began in Ontario in 1923 and were soon used in every province. The clinics could diagnose, treat and follow-up with TB patients and their contacts.
Mobile x-ray machines could to find TB before people showed external symptoms, which made treatment far more effective.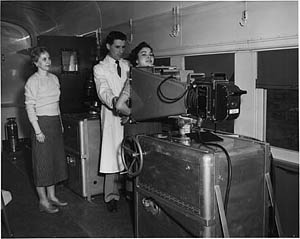 Woman being tested for tuberculosis on the Ontario Tuberculosis Association Chest X-Ray Train, Northern Ontario [ca. 1950]
Streptomycin was discovered in 1946 -- the first specific antibiotic that could kill the TB-causing bacterium. This and other antibiotics became widely used against TB in the 1950s.
Antibiotic treatment and a gradual decline in the incidence of tuberculosis led to shorter stays in sanatoria. The number of TB beds in Canada dropped from 18,977 in 1953 to 9,722 in 1963 and by the 1970s, only a small number of TB patients were admitted to hospital.
Today, drug therapy is the only type of treatment prescribed by doctors. However, ensuring that patients take the full-course of drugs, which usually requires several months, remains a problem.
TB is still considered one of the deadliest infectious diseases, especially in developing countries.
For more information
Photo credits
The Anti-Tuberculosis Hospital: William James Topley/Library and Archives Canada/PA-009075
Woman being tested: Archives of Ontario, Digital Image Number I0005205