Gastown vocational services- Vancouver, B.C.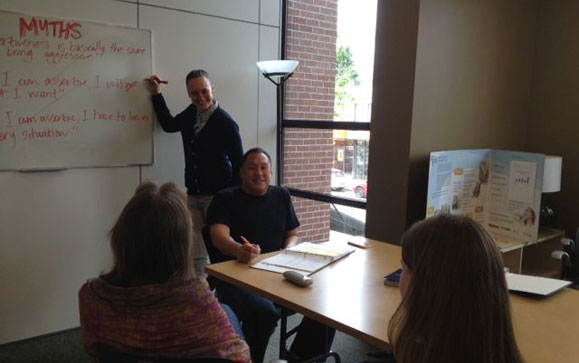 Supporting people with mental health issues to achieve their vocational and educational goals

Ms. Bozzer

Dr. Preece

Listen to their story
(MP3: 9:10)
It is already difficult to find work -- it is even harder when you struggle every day with a mental health disability.
Recent surveys estimate that 85% of people with mental disabilities are unemployed. These statistics aren't surprising given the stressful and demanding situations that people often encounter in today's competitive and fast-paced workplace environment. For those who have found work, the public's lack of awareness about mental health issues and the ever-present stigma of having a mental health disability can cause social isolation on the job, which compounds stress. For all these reasons, steady work is difficult to find and hard to keep.
This is where Gastown Vocational Services (GSV) comes in. For more than 20 years, GVS has helped youth, young adult and adult clients living with a variety of mental health issues (e.g., severe depression, bi-polar disorder, schizophrenia, anxiety disorders) to find work and complete their education, gaining the skills they need to become more successful in the labour market. GVS relies on funders and does not charge clients for its services, thus contributing to health equity by ensuring that even the most vulnerable and poorest populations can benefit. It is one of several initiatives in British Columbia seeking to address unemployment among the mentally ill.
Multi-faceted approach that treats clients as individuals
Part of the program's appeal is that each person is treated differently depending on their abilities, severity of their illness, past experiences and career interests. The idea is to build on each individual client's strengths, and guide a person along a path that will lead to long-term, sustained work. The GVS approach treats rehabilitation as a recovery-oriented customized process instead of a 'race.' Patience and a positive mindset are key.
"There is no fast fix to getting our clients back to work," says Gastown clinical psychologist, Dr. Melady Preece. "We think about what would be a sustainable line of work for a person; a lifelong kind of direction, as opposed to just a job for now."
Relationships and trust are also essential to the GVS method. Unlike other programs, clients aren't shuffled from one agency to another and faced with building new relationships with staff at another program. One client wrote of his job counsellor: "She'll encourage you, and inspire you to heights you've never imagined before.  But she won't do the work for you, and she won't let you quit."
Using varied approaches and techniques to find the right job fit
GVS's dedicated team is multidisciplinary, made up of occupational therapists, job developers, peer support workers, group facilitators, life coach, psychologist, psychometrician, program assistant and program co-ordinator. They approach vocational rehabilitation in several ways.
The program facilitates Work Readiness and Career Exploration group sessions for clients who need pre-employment skills, and need to develop workplace coping strategies within a supportive environment. Peer support is also available to assist clients with practicing work-related skills and for ongoing support. Clients are also instructed about life skills that are pertinent to the workplace: communication skills, assertiveness, anger and frustration management, dressing for work, money management, resume building, dealing with illness and stress, and interview skills are just some of the topics covered by the staff. The centre offers one to one computer instruction, job coaching, wellness recovery groups, cognitive rehabilitation programs as well as job search and job finding workshops. Job placements are arranged to give clients up-to-date, hands-on experience in a workplace; an essential step for those who have been out of work for many years or have never held a job. Finally, GVS helps clients search for permanent work by identifying interested employers.
GVS helps workers and their employers
"If you do not give up on yourself, GVS will not give up on you," writes another satisfied client. "You will be amazed and delighted by what will be accomplished."
Better mental health in the workplace depends on everyone making adjustments. Therefore, GVS not only educates its clients about acceptable work practices, it also advises employers about the best means to accommodate the various needs of their employees in the workplace, such as adaptations to work schedules, work environment, job tasks, etc.
Funding challenges
It has been estimated that mental illness costs the Canadian economy anywhere from $30 to $51 billion a year in lost productivity. Yet, funding for programs like GVS, which can turn that around and increase productivity, remains limited.
"It's tighter and tighter to get funding, and I think that is going to be the number one challenge," says Preece. "Where are the priorities? Where does vocational rehabilitation fit amongst the demand on our healthcare system for dollars?"
Resources