Fighting the good fight: reforming medicare
Health care is like other social programs in that it must change with the times to meet the needs of the Canadian population, and Medicare has done just that. It has evolved through challenging economic times, shifts in government policy, and in response to the shifting demographics of Canada's diverse and geographically dispersed population. And while the Canadian health care system we know today has been shaped by these forces, the principles articulated and brought to fruition by Tommy Douglas, founder of Medicare, remain strong.
Looking back: how far has health care reform advanced?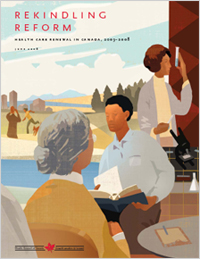 In support of the Statutory Review by the Standing Committee on Health, Dr. Jeanne Besner, Chair of the Health Council of Canada, provided a perspective on the 10-Year Plan to Strengthen Health Care in May, 2008. At that time, she said: "Undoubtedly, the accords have been a catalyst for change in many areas... Major purchases of medical equipment and information technology have increased the number of services delivered, some jurisdictions have improved the way they manage waiting lists, and most provide wait time information for some procedures on public websites... Most Canadians have better access to health information and advice through telephone help lines. Some Canadians have better access to publicly insured prescription drugs, to primary health care teams, and to a range of health care services at home or in their communities. And albeit slowly, but surely, the healthcare system is adopting information technology to deliver safer, more efficient, and better-informed care."
In June, 2008, the Health Council of Canada issued a five-year summary report (Rekindling Reform) letting Canadians know about the progress of efforts across the country to reform elements of Canada's health care system. Was the health care system getting better? Were efforts to meet the commitments made in the 2003 First Ministers' Accord on Health Care Reform and the 10-Year Plan to Strengthen Health Care actually on track and achieving the desired outcomes? The Health Council concluded that progress was uneven; indeed, the glass was both half-full and half-empty.
The Health Council commented that there was much more work to be done in the areas of drug coverage and safe, appropriate prescribing; home care; First Nations, Inuit, and Métis health; primary health care; the health care workforce; electronic health records and information technology; and wait times.
Over the past two years, there has been further progress in addressing some of these accord commitments and the Health Council has continued to report more in-depth on a number of them. All our work can be found on the Health Council of Canada website.
For the next comprehensive installment on progress, look to the Health Council in Spring 2011 to see what has been achieved by governments around wait times, pharmaceuticals management, electronic medical and health records, telehealth services, and health innovation.
We're sure there is more to share with Canadians!
For more information