Fighting the good fight: reducing poverty in Canada
Poverty and income inequality need to be addressed if the goal is to improve the health status of all Canadians. According to Dr. David McKeown, Medical Officer of Health for Toronto:
Compared to people with higher incomes, people living in poverty have: less access to nutritious food and physical activity; more exposure to pollution; more infections; more heart disease, diabetes, mental illness and cancer; smaller babies; and shorter lives. These health impacts of poverty are preventable. Eliminating poverty is the best medicine money can buy.(Toronto Star, April 19, 2008)
In 2008, Statistics Canada reported that just over 3 million Canadians lived in a low-income situation, which represents 9.4% of the population. About 606,000 children aged 17 and under lived in low-income families and roughly 218,000 of these children lived in female lone-parent families.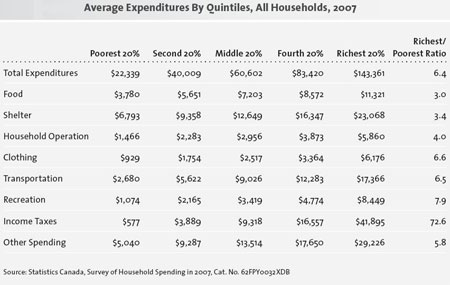 Source: Steve Kerstetter, The Affordability Gap, Spending differences between Canada's rich and poor, Canadian Centre for Policy Alternatives, 2009
Between 1999 and 2007, annual spending by the poorest households increased by $1,283 or 6.1%, while spending by the richest rose $16,497 or 13%. For the lowest quintile, the average outlay for the household was $73 a week for food and $490 a month for rent. The poorest households often are unable to buy many of the items that most Canadians would consider a normal part of everyday life.
The Daily Bread Food Bank in Toronto lists 10 basics that poor people often do without:
Regular savings of at least $20 a month
Fresh fruit and vegetables every day
Meat, fish, or vegetarian alternative every day
A small amount of money to spend each week on oneself
Replacing worn out furniture
Appropriate clothes for a job interview
Being able to get around in the community either with a public transit pass or, in smaller centres, a car
Having a least two pairs of shoes
Able to buy modest presents for family members at least once a year
At least two good meals a day for adults.
The House of Commons passed a unanimous all-party resolution in 1989 to eliminate poverty among Canadian children by the year 2000. Campaign 2000, a national public education movement, began to put out annual report cards in 1991 measuring progress towards meeting this commitment. In its 2009 report it concluded that Canada has far to go to prevent and reduce poverty and that the gap between the rich and poor had widened. For instance, between 1989 and 2008, the number of children in Canada relying on food banks grew from 151,200 to 260,000.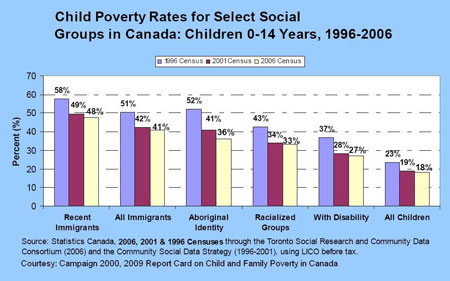 While organizations such as Campaign 2000 are there to fight-the-good-fight, progress in reducing poverty in Canada is indeed disappointing.
For more information