Fighting the good fight: legalized abortion in Canada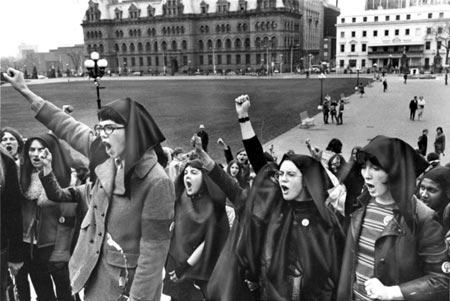 In this 1970 photo, a group of women stands with fists upraised in front of the Parliament buildings in Ottawa after their protest forced the House of Commons to adjourn for a half-hour.
Credit: The Toronto Star, May 2010
Abortion was made illegal in Canada in 1869 under the threat of life imprisonment but that did not stop women from seeking to terminate unwanted pregnancies. Illegal abortions were often unsafe procedures resulting in death or disability. It was not until 1967 that a federal committee considered an amendment to the Criminal Code on abortion. Many groups and individuals urged the committee to repeal the abortion law including Dr. Henry Morgentaler.
Dr. Henry Morgentaler has long been committed to ensuring that all Canadian women have access to safe, legal abortions. Starting in 1969, he defied the Criminal Code and performed abortions in his medical practice in Quebec; he did not do this secretly; in fact he gave interviews about it and was arrested and charged.
Ten more criminal charges were laid against Dr. Morgentaler and a Montreal jury acquitted him. In an unprecedented move, the Quebec Court of Appeal overturned the jury verdict and sentenced him to prison where he served 10 months. There would be more arrests, two more jury acquittals (one in Quebec and one in Ontario), at least eight raids on his clinics, one firebombing and huge legal bills.
In 1970, an Abortion Caravan of women, coat hangers and a black coffin travelled from Vancouver to Ottawa, arriving on Parliament Hill on Mother's Day to demonstrate for unrestricted access to legal abortions. A coat hanger is a graphic symbol of abortion death. This was Canada's first national feminist protest and it closed down Parliament for the first time in Canadian history.
On January 28, 1988, the Supreme Court of Canada struck down Canada's abortion law as unconstitutional. The law was found to violate Section 7 of the Charter of Rights and Freedoms because it infringes upon a woman's right to life, liberty and security of person. Chief Justice Brian Dickson wrote: "Forcing a woman, by threat of criminal sanction, to carry a fetus to term unless she meets criteria unrelated to her own priorities and aspirations, is a profound interference with a woman's body and thus a violation of her security of the person."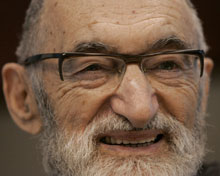 Dr. Henry Morgentaler
This decision decriminalized abortions in Canada, making it a medical procedure governed by national health policy rather than criminal law. Dr. Morgentaler continued to fight-the-good-fight, opening a clinic in Nova Scotia in 1989 after the provincial government passed legislation prohibiting abortions at clinics.
Canadian women in most major centres have access to funded abortion today. However, access can still be an issue. Many hospitals have long waiting lists but will not perform abortions after the first trimester. There is no access to abortion in PEI and New Brunswick continues to refuse to pay for abortions in clinics. Rural women everywhere in Canada can have difficulties with access.
Dr. Henry Morgentaler who has been Canada's most visible pro-choice activist, was named to the Order of Canada in 2008.