Fighting the good fight: impaired driving in Canada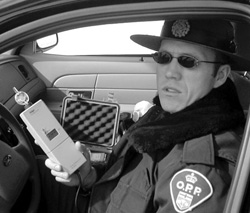 For nearly 90 years, government agencies, police services, traffic safety organization, public health and victims groups have been working to end impaired driving. Following are some of the key achievements in the fight against impaired driving in Canada.
1921 -- "Driving while intoxicated" included in Criminal Code of Canada.
1951 -- Significant amendments made to Canada's impaired driving legislation.
1969 -- Canada's legal blood alcohol limit set at 0.08% BAC (blood-alcohol concentration).
1970s -- Sobriety checkpoints introduced.
1970s -- Provinces and territories begin introducing administrative licence suspension programs for BACs in the "warn range" of 0.05% to 0.08%.
1976 -- Police given the ability to demand a breath sample on a roadside screening device when they have grounds to suspect alcohol in the driver's body.
1980s -- Provincial anti-drinking and driving groups start to appear. Led by the early pioneers of the anti-impaired driving movement - victims of impaired driving - the groups seek to educate the public about the human tragedies caused by impaired driving.
1985 -- New offences and penalties for impaired driving causing bodily harm and impaired driving causing death added to the Criminal Code.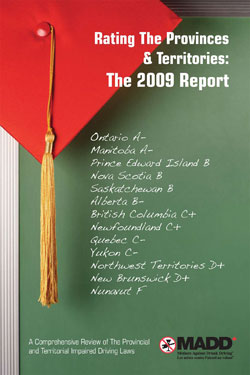 Download the report
1990s -- Provinces and territories continue to build on administrative impaired driving programs and begin to introduce other measures, including: ignition interlocks, graduated licencing for young drivers, vehicle impoundment and remedial treatment programs.
1990s -- All levels of government come together to tackle impaired driving through the Strategy to Reduce Impaired Driving (STRID) of the Canadian Council of Motor Transport Administrators (CCMTA).
1990s -- MADD Canada is formed to create a national network of victims and concerned citizens working to stop impaired driving and to support victims of this violent crime. Among its first national efforts is Project Red Ribbon. The awareness campaign is still going strong today.
1996 -- Road Safety Vision 2001 - a national road safety initiative is launched by CCMTA.
2000s -- Provinces and territories develop additional impaired driving legislation and programs, including: 0.00% BAC limit for young and new drivers; mandatory interlocks, extended licence suspensions at 0.05% BAC and vehicle forfeiture.
2000s -- Increased penalties and legislation introduced to better address the problem of drug impaired driving.
2000s -- Road Safety Vision 2010 provides Canada's road safety stakeholders with new targets against which to measure new strategies and measure intervention efforts.
2000s -- Ontario takes top spot in MADD Canada's inaugural Rating the Provinces and Territories Report, which identifies best practices in provincial and territorial impaired driving legislation.
2003 -- Manitoba takes the lead in MADD Canada's Rating the Provinces and Territories Report for strong laws in areas of police enforcement powers, licence suspensions and revocations and vehicle forfeiture program.
2006 -- Manitoba retains position as leader in impaired driving legislation in MADD Canada's 2006 Rating the Provinces Report Card on the strength of its 0.00% BAC requirement for young drivers, enforcement of its graduated licencing program and administrative licence suspensions.
2007 -- Conditional sentences for violent crimes eliminated.
2009 -- Ontario retakes the top spot in MADD Canada's Rating the Provinces and Territories Report for its leadership in the area of administrative licence suspensions, graduated licencing and vehicle impoundment provisions.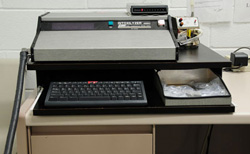 Though significant progress has been made in the fight against impaired driving, particularly in the 1970s and 1980s, there is still much work to be done. Progress since the mid-90s has been limited and the rate of impaired driving deaths and injuries is on the rise, with 2006 levels surpassing those in 1999. Government, police and a wide variety of stakeholder groups continue to work together on this serious road safety issue with the goal of making our roads and communities safe from impaired driving.
Source and photo credits: MADD Canada