Drop the Pop campaign - Dettah, Northwest Territories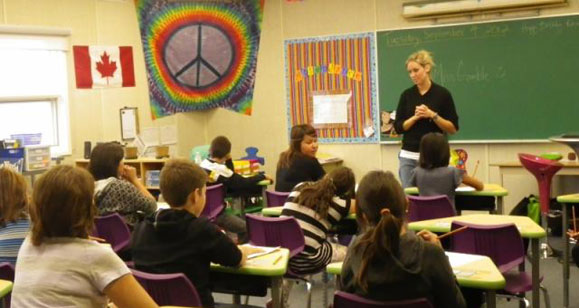 Fostering long-term healthier food choices for kids and families


Listen to Lea Lamoureux
(MP3: 8:48)
Lea Lamoureux, the principal of Kaw Tay Whee School in Dettah, Northwest Territories, doesn't mince words when it comes to the harms of pop and other sugary drinks.
"Drop the Pop [started] because we know that there are no health benefits to consuming sugar-based beverages. They're bad for you. They're bad for your teeth. They're bad for your weight. There are no health benefits at all."
Lamoureux and her staff saw that their community had limited access to healthy food and experienced high rates of chronic disease. Residents of Canada's most remote regions often face harsh living conditions that can contribute to negative health outcomes. There are a multitude of social determinants that factor in, for example: difficulty finding fresh, healthy food due to bad driving conditions for supply trucks. Poverty and elevated school dropout rates also contribute to poor nutrition and higher rates of chronic disease.
Poor school attendance and high rates of hunger helped mobilize Kaw Tay Whee School to implement the Drop the Pop campaign in 2006 in collaboration with their community, Dettah District Education Authority, Department of Health and Social Services, and the Government of the Northwest Territories (NWT).
Major campaign across three territories
Drop the Pop started in 2003-2004 as a government initiative in Nunavut and has since spread to all three territories (Northwest Territories, Yukon and Nunavut). Drop the Pop seeks to "encourage students and their families to consume healthier beverages and foods, to learn new skills and knowledge and to foster long-term healthier food intakes in order to maintain and improve overall well-being."
A 2011 evaluation of short-term outcomes for the campaign revealed encouraging results:
Almost 80% of the schools participating in the evaluation reported that their students brought healthier beverages and foods to school during

Drop the Pop.

Many parents commented that their children requested more fruits, vegetables and unsweetened beverages after the campaign.
Of those students that participated in the survey, 70% were able to identify three foods they should eat more of in order to have a healthy body and teeth, and over 85% were able to correctly list three foods to avoid.
Students tell their own stories
Kaw Tay Whee School was the NWT winner in this year's Drop the Pop video contest with their video entitled "The Adventures of Super Sparkle Water Girl." Students wrote, produced and edited their own films relating to the promotion of healthy lifestyles and choices. The cash award from the video contest will be put toward enhancing the school's Health-related Experiences Program, which provides opportunities to try new physical activities and foods.
Innovative approaches to healthy eating include a free, healthy, hot lunch program and Funky Fruit Friday: an activity that exposes kids to new and exciting foods that are not readily accessible in such a remote community, such as star fruit, pineapple and avocado. The children participating in the Health-Related Experiences Program are also taught to prepare healthy food, which they can then take home and share with their family, thereby generating acceptance and promoting good eating habits. Families are also invited in several times each year to have healthy lunches with the children.
Lamoureux recognizes the links between physical inactivity, sugary beverages and Canada's obesity epidemic.
"Not only schools have a responsibility, but society as a whole has a responsibility to really examine what is happening with our youth and with our adults. If we don't do something about it, then who is going to?"
Resources