Disease knows no borders...
Until every child is immunized, your child is not safe
Reflecting on her assignment to Ghana the word "humbling" comes to Angela Luciani's mind. Anna-Maria Frescura's assignment to Ethiopia left her with "a deep sense of satisfaction." Long days, difficult weather and living conditions, and hours spent by the roadside waiting for their cars to be dug out of the mud were only some of the conditions both Angela and Anna-Maria faced working as consultants with the STOP (Stop the Transmission of Polio) Program.
Among the many consultants who have volunteered several months of their time with CPHA's Canadian International Immunization Initiative (CIII), Angela and Anna-Maria have supported local counterparts in strengthening their national childhood immunization systems and worked towards polio eradication, the elimination of measles and the combating of childhood diseases in low- and middle- income countries around the world.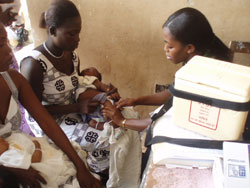 Local vaccination campaign volunteers immunizing children in Turkana, Kenya against Polio and marking their fingers with indelible ink to show that the children have been vaccinated in this campaign.
What would motivate people to leave the comforts of home, family and friends to live in unfamiliar territory? For Angela, it was the opportunity to join her passion of nursing with her love of different cultures. As she states, "It's great to be able to be part of the big picture of global health." And far more simply, the need is too great to ignore, especially when the solution is at hand.
Immunization: an effective tool in reducing morbidity and mortality
Every year, almost 10 million children under the age of five years die from preventable or treatable causes. Immunization protects an entire population by preventing the spread of disease from one individual to another: the more people immunized, the less chance for disease to circulate.
As a result of the implementation of WHO's Expanded Program on Immunization (EPI), WHO and UNICEF report the following increases in immunizing the world's children against vaccine-preventable diseases have been achieved:
1974 - 5%
1998 - 72%
2006 - 80%
According to the WHO, immunization now saves 3 million lives and prevents 750,000 disabilities worldwide each year, making it "the single greatest public health achievement of all time."
Despite all these improvements, WHO estimates that about 9 million children under the age of 5 are still dying every year of diseases that are preventable by widely used vaccines. Furthermore, in 2007, 24 million children (almost 20% of children born that year) did not get the routine immunization scheduled for their first year of life.
In response to these remaining challenges, WHO and UNICEF developed in 2006 the Global Immunization Vision and Strategy (GIVS) that aims to, by 2015 or earlier, reduce illness and death due to vaccine-preventable diseases by at least two-thirds compared to 2000 levels.
CPHA's role in addressing those challenges
CPHA has over 20 years of experience in managing global immunization initiatives and, through CIII, has partnered since 1986 with the Canadian International Development Agency (CIDA) in providing Canadian technical assistance to support global efforts aimed at strengthening immunization programs worldwide.
CIII projects were developed and implemented in the context of integrated primary health care, and immunization was used as the entry point to address various components of the health system.
The result?
Increasing access of marginalized and hard-to-reach populations to essential health services, thus ensuring a more equitable provision of these services
Improving management capacity at district and sub-district levels
Fostering greater community participation in the delivery of health services and in the demand for these services
Enhancing health information and surveillance systems
Strengthening the capacity of health care workers and devising innovative strategies to address the shortage of health personnel
Inter-sectoral collaboration
Strengthening the capacity of partner-countries in disease surveillance, data management, epidemiology, laboratory diagnostics and technologies, vaccine and injection safety, cold chain, adverse events reporting, communication, and social mobilization
Sharing the Canadian expertise with the world is an important aspect in achieving those results. As Dr. Eleni Galanis, STOP Consultant to Haiti, phrases it: "If you believe you are a citizen of the world, then everyone is your neighbour. By decreasing the threat of communicable disease to others, you're decreasing the threat to ourselves as well."
For more information
Photo credits
Consultant Anna-Maria Frescura: submitted by consultant Anna-Maria Frescura
Local vaccination campaign volunteers: submitted by consultant Kate MacLauchlan
A child being immunized: submitted by consultant Deborah van Dyke