Decline in deaths from coronary heart disease and stroke
The cardiovascular disease death rate has been declining steadily in Canada since the mid-1960s. The 1995 death rate for CVD was almost half that of 1969 and between 1994 and 2004 the death rate fell by 30%.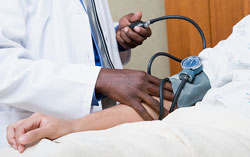 While the exact reason for this decrease is not known, it is likely the result of a combination of factors, including prevention (lower rates of smoking and physical inactivity, increased consumption of vegetables and fruit), better diagnosis and treatment of high blood pressure and the level of lipids, and better management of those who have CVD.A study by the University of Calgary's Faculty of Medicine shows a marked reduction in cardiovascular deaths and hospitalization rates occurring in people with high blood pressure (hypertension). According to Dr. Norm Campbell, the lead author of the study, "Canada really has become a world leader in the treatment and control of hypertension." While the ongoing decline in CVD mortality rates is a great public health achievement, CVD is still a concern. An estimated 1.6 million Canadians have heart disease or are living with the effects of a stroke, according to the Public Health Agency of Canada. Among seniors, 14.8% of those ages 65 to 74 years report having heart disease, with the proportion climbing to 22.9% over age 75. In this same age group, 7.1% of Canadians report living with the effects of a stroke. There is also concern that CVD could increase because of increased prevalence of obesity and diabetes, which are two risk factors for CVD.
Feature articles
Resource
sodium101.ca
Get the facts: Tips and tricks to help you reduce your daily intake of sodium.
Milestones