Child benefits: universal versus targeted programs
Family Allowance, introduced in 1945, was Canada's first universal welfare program. The fact that it was universal--paid to families regardless of income--was predicated on the idea that all Canadian children were worthy of public support. This monthly allowance was to help cover the costs of child maintenance.
Despite the program's popularity it was largely neglected by the federal government, with only one marginal increase in benefits between 1945 and 1973. A new federal Family Allowance Act was introduced in 1974 in response to a growing concern about child poverty. It provided for a significantly increased benefit per child but the benefit was subject to taxation. This was called progressive universality for it delivered the most to low-income families, less to middle-income families and nothing to well-off ones.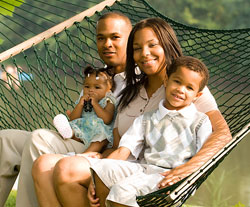 Since then, the long-term trend in Canadian child benefits has been toward greater targeting with the 'reducing poverty' objective taking priority over 'support to all parents.'  As a result, child benefits for low-income families have increased substantially in value over time, especially in the 1990s and into the 2000s.
Major health disparities persist between various groups in Canadian society (see September's great achievement, the social determinants of health). Despite efforts since 1978 to target child benefits to low-and moderate-income families, the incidence of child poverty in Canada remains persistent and high.
The federal Budgets of 2006 and 2007 marked a turning point in the evolution of child benefits when for the first time in close to thirty years, middle-and high-income families received an increase in child benefits. Ken Battle of the Caledon Institute of Social Policy says the programs introduced in these budgets (Universal Child Care Benefit and the non-refundable child tax credit) are retreads from the past and undermine years of progress towards a fair, national and progressive child benefits system. So the struggle between universal and targeted programs continues.
For more information