Canada's food guide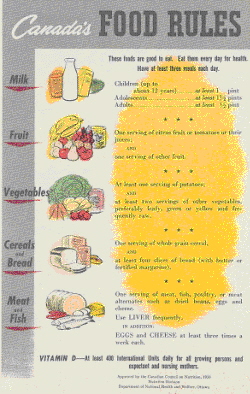 Our first food guide, the Official Food Rules, was introduced in 1942 to help prevent nutritional deficiencies during wartime food rationing. At that time, many Canadians had problems getting and affording good quality food and some people suffered from malnutrition.
The food guide has been revised a number of times since then, with new names, new looks, and new messages. But its original purpose of guiding food selection and promoting the nutritional health of Canadians has stayed the same.
Role of food guides
Food guides are designed to help people follow a healthy diet and eat a variety of foods. Developing a food guide requires sophisticated dietary analysis, and the inclusion of data from food consumption surveys, and issues of food supply and production. It also involves working with expert advisory groups and, in Canada, consulting from coast to coast with non-government organizations, academics, health professionals, government, industry and consumers. A food guide translates the science of nutrient requirements into a practical pattern of food choices, incorporating variety and flexibility.
Canada's food guide today
Today, the goals of Canada's Food Guide are to help:
Meet your needs for vitamins, minerals and other nutrients.
Reduce your risk of obesity, type 2 diabetes, heart disease, certain types of cancer and osteoporosis.
Contribute to your overall health and vitality.
Learning more about Canada's Food Guide can help you and your family know how much food you need, what types of foods are better for you, and the importance of physical activity in your day.
Visit Canada's Food Guide today
First Nations, Inuit and Métis Food Guide
Moose stew? Char? Blueberries? Bannock? For the first time, a national food guide has been created to reflect the values, traditions and food choices of First Nations, Inuit and Métis peoples. It is based on the 2007 guide and tailored to include traditional and store-bought foods that are generally available, affordable and accessible across Canada.