Call for papers
**EXTENDED SUBMISSION DEADLINE**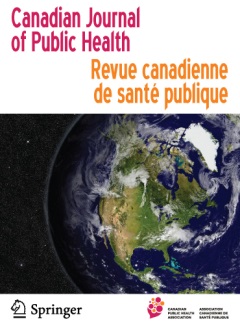 Why public health matters today
Exploring the health, social, economic, political and other value of population and public health
Editors: Lindsay McLaren and Trevor Hancock
At a time when public health is coming under increasing pressure (Potvin 2014, Guyon et al. 2017, Hancock et al. 2017), it is important to study the value of public health to Canadians. By "public health", we mean population and public health systems, services, interventions and approaches, which may be situated within or outside of the formal health sector. 
The Canadian Journal of Public Health (CJPH) invites submissions to a special section on Why public health matters today that explore, and provide evidence for, the value of public health to Canada today. 
We encourage a range of contributions, including:
Health, social, economic and political analyses; 
Rigorous commentaries containing cogent/robust analysis; 
Research informed by a range of theoretical perspectives; 
Work that explores the value of public health for various communities; and 
Research conducted at local, regional, provincial and national levels. 
We also welcome international studies that would be relevant to Canada, as we believe Canada has much to learn from other countries. 
We anticipate publishing 10-12 papers.
We embrace methodological pluralism, and welcome primary empirical research that is quantitative, qualitative, or mixed methods. Submissions are welcome across the breadth of public health, for example:
Health promotion, including healthy public policy
Disease/injury prevention
Health protection
Public health surveillance/assessment
Health emergency management
Social, environmental and ecological determinants of health
Other areas relevant to population/public health 
Examples of potential contributions include but are not limited to:
Studies that provide evidence of reduced burden of disease attributable to public health interventions, including reductions in inequalities in health
Cost-benefit analyses of population/public health interventions
Case studies of public health restructuring within health authorities, e.g., institutional ethnography
Political analysis of decisions (funding or otherwise) with respect to public health, health care, and other public services 
Analyses of knowledge and attitudes of Canadians with respect to public health services and preventive interventions 
Analyses of media or other sources of public discourse concerning public health 
Social and political analyses of factors that influence and shape the form and nature of public health interventions, or the structure and function of public health systems and services
Interventions that address environmental and/or ecological determinants of health.
Submissions will be subject to CJPH's standard peer-review process. Instructions for authors are available on the Springer website. For easy identification purposes for the CJPH editors, please indicate in the covering letter of your submission that the paper is in response to the Call for Papers "Public Health Matters/La santé publique aujourd'hui".
Deadline for full manuscript submissions: 15 June 2018
Anticipated publication: Early 2019
If you have any questions or would like further information, please contact Karen Craven, Canadian Journal of Public Health Managing Editor, at kcraven@cpha.ca.
References
Guyon A, Hancock T, Kirk M, MacDonald M, Neudorf C, Sutcliffe P, Talbot J, Watson-Creed G. The weakening of public health: A threat to population health and health care system sustainability [editorial]. Can J Public Health 2017;108(1):e1-e6.
Hancock T, on behalf of the CJPH Editorial Board. Erosion of public health should be a matter of concern for all Canadians [editorial]. Can J Public Health 2017;108(5-6):e458-e461. [In production at time of this Call for Papers]
Potvin L. Canadian public health under siege [editorial]. Can J Public Health 2014;105(6):e401-e403.