Bécik Jaune (Lanaudière, Quebec)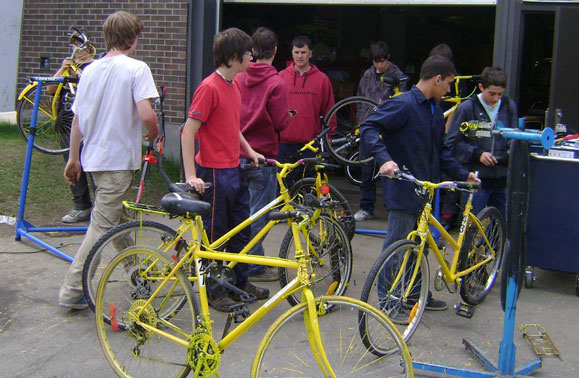 Listen to Marie-Chantal Bouchard
  (in French) (MP3: 8:01)
Who knew a fleet of bright yellow bicycles could tackle issues like chronic disease, obesity, poverty, education, and the environment?
Bécik Jaune is a free bicycle-sharing program in the Lanaudière region of Québec. The project was developed by Maison des Jeunes Café-Rencontre 12-17 du Grand Joliette, a not-for-profit organization that serves youth in the region. Unused, broken, or out-of-date bikes are donated by residents of the participating regions and are restored by students through an innovative program at Barthélemy-Joliette high school. Once repaired, the bicycles are painted a cheerful yellow and released into the community for everyone to enjoy. The bikes offer a free and accessible alternative to car travel, which has many benefits.
Students make a difference in their community and their own lives
The school's workshop, VéloBato, helps students in the special education program and students with a high risk of dropping out of school to learn the basics of bike repair and maintenance. The program also gives participating students something concrete to put on their resume. "It acts like a reward for doing well in school," says Marie-Chantal Bouchard, coordinator of Maison des Jeunes du Grand Joliette.
The dropout rate in the region is high, and VéloBato helps to decrease the number of drop-outs by creating an enjoyable environment within the school where the students learn new skills. In a TVA interview that aired last year, Maxime Bellerose, shop mechanic, explained: "We have an impact on the students. We teach them perseverance because sometimes we come across difficult mechanical problems we have to overcome. We teach them self control and patience as well."
Community-based project impacts multiple determinants of health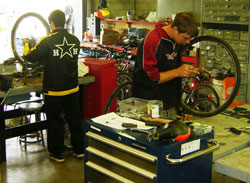 As a wholistic community-based project, Bécik Jaune encourages residents to use more active transportation, which has been shown to fight obesity and cardiovascular disease. According to Bouchard, the yellow bikes traveled over 2.5 million kilometres last summer. And with fewer cars on the road, emissions are reduced, which is beneficial to the environment and to the pulmonary health of Joliette residents. Furthermore, the bikes support health equity by offering a means of transport to people who may not otherwise be able to afford it. Surveys by the Bécik Jaune team reveal that the majority of users are young people, new immigrants, and people with mental health disabilities.
The project grows steadily
In 2009, when Bécik Jaune was in the pilot phase, there were just 25 bikes on the road. It was a struggle at first. "We had problems with people not understanding how the program worked," says Bouchard. "They would take the bikes home with them, when the real objective of the initiative was to keep them in circulation."
As a result of this, a small team of bike patrollers was hired. These nine students rode around town to educate the public about the project and road safety. They also surveyed the public to collect data on the project's impact. The pilot was a success, and the project expanded to neighbouring municipalities. In 2011, approximately 730 bikes were on the roads serving Joliette, Notre-Dame-des-Prairies, St-Charles-Borromée, Lavaltrie and Mascouche.
Private and public sector involvement
Bouchard credits the expansion of the program to community partnerships. Private businesses and the local municipalities provide some funding for publicity and bike upkeep. The community gets involved by donating bicycles and letting the Maison des Jeunes know about any problems like vandalism and missing or broken bikes. Bécik Jaune also owes a lot to the teachers at Barthélemy-Joliette high school who provide guidance and support to the students after hours.
Maison des Jeunes is keen to implement the project in a more permanent way and to expand it further in the future. "We impact the environment, social factors, and physical health, with respect to pulmonary health, because we reduce the number of cars, and we give people a chance to be more physically active," says Bouchard. "There are a lot of current issues that the program addresses."
Resources