Achieving safer workplaces in Canada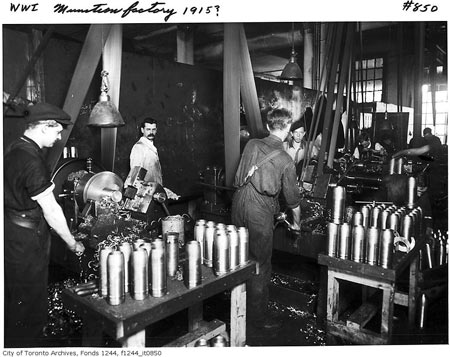 Munitions Factory, 1915.
Credit: City of Toronto Archives, Fonds 1244, Item 850
Canada is considered to be an "advanced safety country" where workplace safety is entrenched. "Advanced safety" countries have an intricate system of regulations and enforcement designed to compel companies to provide safe workplaces and workers who are knowledgeable and know their rights.
Well into the 1900s in Canada, many diseases or injuries were associated with unsafe workplaces or hazardous occupations. In Ontario, the paths toward improved workplace health and safety began in 1884 when the Ontario Factories Act was passed, establishing a system of inspections. In 1886, the Ontario Workman's Compensation for Injuries Act became the first workers' compensation legislation in Canada. It established the conditions under which a worker could take legal action against an employer for injuries sustained at the workplace.
The Royal Commission on the Relations of Labour and Capital reported in 1889 that many workers were being hurt on the job and condemned the state of working conditions in several industries. The commission made a number of recommendations but the federal government did not act on them, saying it was provincial responsibility. The federal government did pass the Public Works Health Act of Canada in 1899, however, regulating the supervision of health and safety of federal Public Works employees.
One of the fundamental universal truths of safety is that "no one comes to work with the intention of getting hurt or of hurting anyone else." Canada had its first 'modern' workers compensation law in 1914, when Ontario introduced legislation that workers would be eligible for guaranteed no-fault benefits from a system that was wholly funded by employers. In exchange, employers were freed from legal liability. This Ontario Workmen's Compensation Act was the first Canadian statute to accept the principle that some level of injury is inevitable and that compensation should be provided without regard to responsibility.
Over the years, provincial legislation and regulations have been put in place to regulate everything from the closing hours of shops; hours of labour for children and young persons; rules for ventilation, blasting, manholes, lifting devices, shafts signals, brakes machinery and boilers; notice of fatalities and injuries; working conditions in bake shops (lighting, heating, ventilation, fire escapes, sanitation and washroom facilities); safety of tradesmen engaged in the construction of buildings (scaffolding, hoists, stairs, ladders); provision of masks for persons working with granite, and so on.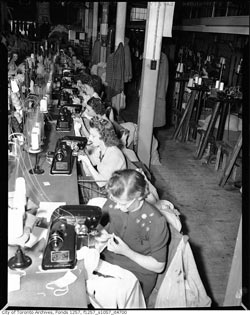 Women sewing in textile factory, 1940s.
Credit: City of Toronto Archives, Series 1057, Item 4700
Saskatchewan passed the Occupational Health Act in 1972, considered to be the first legislation of its kind in North America. The act set the framework for future legislation, enshrining three important rights for workers: the right to know about hazards and dangers in the workplace; the right to participate in health and safety issues through a workplace committee; and the right to refuse unsafe work.
In 1974, miners in Elliot Lake in Northern Ontario went on strike to protest unsafe working conditions. The provincial government struck a royal commission headed by James Ham. The Report of the Royal Commission on the Health and Safety of Workers in Mines (The Ham Report) made more than 100 recommendations concerning mine health and safety and also about the administration of health and safety. The report advocated for the creation of joint labour-management health and safety committees, with worker members. These recommendations had a significant effect on the content of the Occupational Health and Safety Act that was passed in Ontario in 1978.
Also that year, the Canadian Centre for Occupational Health and Safety (CCOHS), an agency of the Government of Canada, was created by an Act of Parliament. CCOHS is mandated to promote safe and healthy workplaces to help prevent work-related injuries and illnesses. The Centre is governed by a Council representing three key stakeholder groups: government, employers, and workers.
Today, workers are covered by provincial or federal labour codes depending on the sector in which they work. Workers covered by federal legislation (including those in mining, transportation, and federal employment) are covered by the Canada Labour Code; all other workers are covered by the health and safety legislation of the province they work in.
Health Canada, through its Workplace Health and Public Safety Programme, provides national leadership to enhance healthy living for all working Canadians, develop health policy and advance best practices in the workplace. Health Canada also serves as the national coordinator for the Workplace Hazardous Materials Information System.
The rate of work-related injury has been declining since 1988 --from 40 injuries among every 1,000 workers in 1988 to 20 per 1,000 in 2006.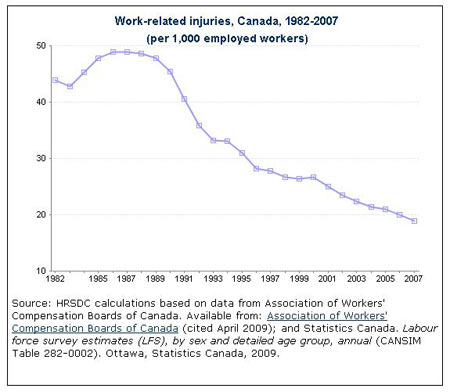 The chances of a worker dying from a workplace-related accident or disease in Canada vary greatly by industry, occupation, gender, age group and province. One in every 50 employed workers was injured or harmed on the job in 2006 and received workers compensation as a result. The highest rate of injury was in Manitoba (30.9 cases per 1000 employed workers), and the lowest was in Prince Edward Island (11.8 per employed workers). Men experienced a higher rate of injury (26.4 cases per 1,000 employed men) than did women (14.5 cases per 1,000 employed women) in 2005. Those working in manufacturing that year had the highest rate of injuries at 36.3 cases per 1000 employees.
So workplace safety continues to be an important issue in Canada
For more information