About Us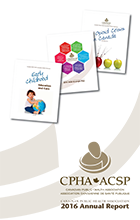 2016 Annual Report (PDF: 1.9k)
Founded in 1910, the Canadian Public Health Association (CPHA) is the independent voice for public health in Canada with links to the international community. As the only Canadian non-governmental organization focused exclusively on public health, CPHA is uniquely positioned to advise decision-makers about public health system reform and to guide initiatives to help safeguard the personal and community health of Canadians and people around the world.
CPHA is a national, independent, not-for-profit, voluntary association. CPHA's members believe in universal and equitable access to the basic conditions which are necessary to achieve health for all.
Our Vision
A healthy and just world
Our Mission
CPHA's mission is to enhance the health of people in Canada and to contribute to a healthier and more equitable world.